LEARN IT. EARN IT. SHARE IT.
How can students make their journey to new achievements and skills easier and earn recognition for their growing expertise along the way? Digital Badges. students receive certificates at the end of the festival that can display badges/awards received at the festival. Badges are officially distributed through Credly and can be added LinkedIn and other social media as certified skills and provide an official channel to indicate to prospective employers advantages and skills they are seeking for hiring, and indicate achievements for IIMF students to use to grow their biographies. Artist Faculty badges are awarded as an honor of high achievements as internationally-renowned artists.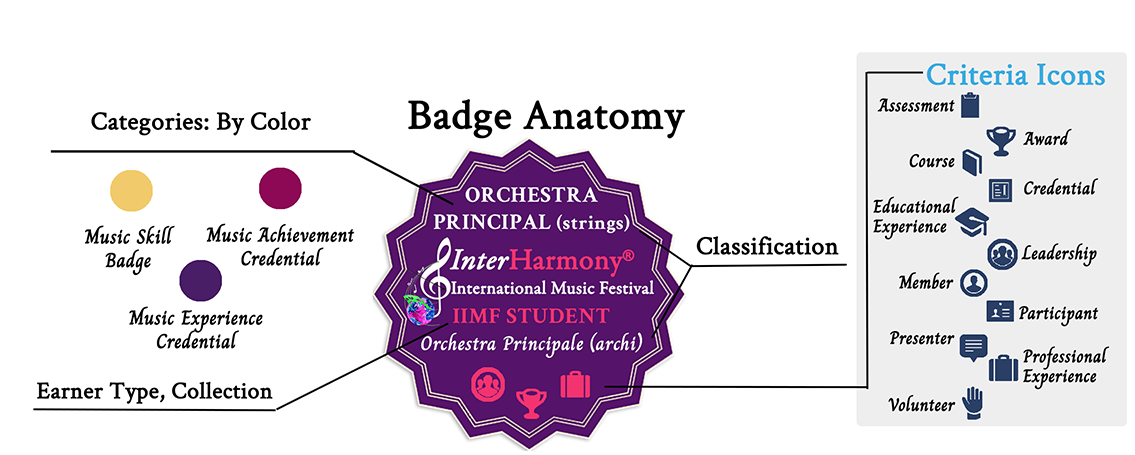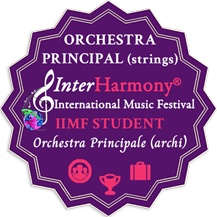 Music Experience Credentials are awarded for earning professional or educational experience, like being asked to or participating in a special performance. At the InterHarmony International Music Festival, this could be a certain position obtained, such as Orchestra Concertmaster or Principal.
Music Experience Credential

EXCEPTIONAL CHAMBER MUSIC PERFORMANCE
ORCHESTRA SECTION LEADER
OPERA PERFORMER
CHOIR WITH ORCHESTRA
INTERHARMONY INTERNATIONAL MUSIC FESTIVAL PARTICIPANT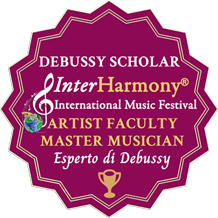 Music Achievement Credentials are awarded to recognize outstanding accomplishment in a particular musical area, performance practice, or outside award. For example, Master Class Rockstar or Composition.
Music Achievement Credential Examples

MASTER CLASS ROCKSTAR
GUMPTIOUS PERFORMER
COLLABORATIVE PIANIST
MASTER CLASS PRESENTER (Artist Faculty)
DEBUSSY SCHOLAR (Artist Faculty)
CONTEMPORARY MUSIC PERFORMER (Artist Faculty)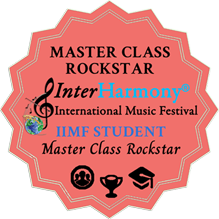 Music Skill Badges are awarded upon attaining a skill, or level within a skillset. Some badges have multiple levels indicating various proficiencies inherent to the skill. They are awarded upon recommendation of IIMF Artist Faculty or administration in recognition of a skill. Artist Faculty may fill out a form to request badges for a skill at any time. Then, the administration works with the Artist Faculty to ascertain the level of competency is sufficient for that badge and if a positive outcome is determined, the badge is awarded to the student.
Music Skill Badge Examples

CHAMBER MUSIC PERFORMER (Artist Faculty)
STAGE MANAGEMENT
STAGE HAND
Shout it Out! How to Share.
Connect your social media accounts to your profile and post the badge URL
Send link to a contact or employer, or embed your badge on a web site.
Download the badge visual to add it to your resume or email signature.
FAQ
InterHarmony International School of Music and InterHarmony International Music Festival students and Artist Faculty could be candidates for Digital Badges.

A badge is a type of micro-credential. Badges are guided by a competency based statement and linked to student learning outcomes that can be assessed. Once the competencies are met, the badges can be issued. Artist Faculty badges are issued as an honor of high achievements as internationally-renowned artists.

Our partner IIMF issues Digital Badges, too.
Learn more