InterHarmony Presents Spring Equinotes at Carnegie Hall on March 15 at 8PM
Like a collection of exotic flowers placed in a delicate crystal vase, generating the lush aroma of the coming spring equinox, InterHarmony concludes its 6th season at the Weill Recital Hall at Carnegie Hall, showcasing world-renowned and upcoming artists. The program, Spring Equinotes, will transport the audience into the romantic world of Liszt and Brahms, moving with the finesse of gliding light into Messiaen's art of synesthesia and the improvisational roulades of Kapustin. Tickets can be purchased at carnegiehall.org or by calling CarnegieCharge at 212.247.7800.
The evening will start with Sonata for Violin and Piano by Pulitzer Prize winning American composer John Corrigliano, performed by violinist Aihua Zhang and pianist Christopher Taylor. Sonata displays rare, expressive dynamics and virtuosic flavor, intertwined with a canvas of music lines that could be present through the whole evening.
Ravel's compositional style, most associated with impressionism, developed through his life, incorporating elements of baroque, neoclassicism, and even jazz. After joining a group of avant-garde poets, artists, and critics called "Les Apaches", Ravel dedicated Jester's Aubade from Mirrors Suite to members of that group.
Franz Liszt was the rock star of the 19th century and ultimate soloist. The power of Liszt's pianism is enhanced with cascades of rich harmonies, and virtuosic, acrobatic passages in Rigoletto Concert Paraphrase. Pianist Alvise Pascucci will perform Ravel and Liszt.
Olivier Eugène Prosper Charles Messiaen, who had almost as many middle names as Dumbledore, claimed to "hear" music as color - synesthesia. Known for his musical experimentation, the audience can imagine colors in his Contemplation of the Joyful Spirit fromTwenty Contemplations on the Infant Jesus.
Russian Jewish composer Nikolai Kapustin is famed for his pianistic improvisation and taking classical composition in the direction of jazz, as heard in his Twenty-Four Preludes in Jazz Style. Pianist Christopher Taylor will perform both works.
The program will finish with Brahm's epic Clarinet Trio, performed by Stacey McColley (clarinet), Misha Quint (cello) and Catherine Kautsky (piano). Anton Webern said "(Brahms) anticipated the developments of the Second Viennese School" and his innovations in the late romantic period led composers to break away from the old rules and flourish in progressive ideas. Trio summarizes all the colors, nuances, and ideas of developing melodic lines that the spectator found earlier in the program. Like sounding springs flowing into the waves of a raging ocean, the extraordinary craftsmanship of Brahms lets each instrument display their superior abilities. The four movements of music will tumble with the velocity of white water rapids streaming to the final chord, creating perfect harmony for InterHarmony's grand finale.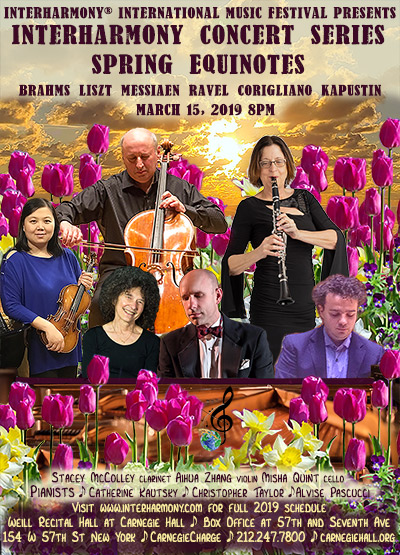 PERFORMER BIOGRAPHIES
InterHarmony Artists

Cellist
MISHA QUINT
, 2016 Gold Medal Global Music Award winner for his CD Matryoshka Blues, performed with such celebrated as orchestras as Orquestra Sinfônica do Teatro Nacional do Brasilia, New York Chamber Orchestra, National Irish Symphony, Brooklyn Philharmonic, London Soloists Chamber Orchestra at Queen Elizabeth Hall, Moscow State Symphony Orchestra, Leningrad Philharmonic Orchestra, and Euro Sinfonietta Wien. Quint has performed under the batons of Maxim Shostakovich, Paul Lustig Dunkel, Colman Pearce, Sidney Harth, Ravil Martinov, Yaacov Bergman, Franz Anton Krager and Ira Levin, and premiered works of outstanding composers of today: Sophie Goubadalina, Robert Sirota, Nathan Davis, and Alfred Schnittke. Quint is Founder and Music Director of InterHarmony® International Music Festival in Acqui Terme, Piedmont, Italy and Suzlbach-Rosenberg, Germany, and InterHarmony Concert Series at Carnegie Hall in New York City and The Modern Museum of Art in Fort Worth, Texas. Quint is on the faculty at Mannes College The New School for Music in Manhattan. Recent engagements include recitals and concerts with orchestra in Italy and Germany, including the Brahms Double Concerto with Nikolaj Znaider, and in Chicago at the Ravinia Festival.
www.mishaquintcello.com

Catherine Kautsky, the George and Marjorie Olsen Chandler Professor of Music and Chair of Keyboard Studies at Lawrence University, has been lauded by the New York Times as a pianist whose "music spoke directly to the listener, with neither obfuscation nor pretense." Her recent recording of the complete Debussy Preludes was said to "bring out all the power, majesty, and mystery of Debussy's conception," and she has just issued a recording of the Brahms Sonatas for Violin and Piano. Ms. Kautsky, whose teachers have included Rosina Lhevinne, Gyorgy Sebok, Martin Canin, and Gilbert Kalish, has concertized widely, performing in Alice Tully Hall, Jordan Hall, and the Phillips Collection in the United States and appearing abroad on six continents. Prof. Kautsky has taught at Lawrence University since 1987, with a 6 -year hiatus as both a faculty member and chair of the Keyboard Dept. at University of Wisconsin-Madison. A devoted teacher, she is the winner of the 2016 Lawrence University Excellence in Teaching Award and the 2013 Faculty Convocation Award. Ms. Kautsky is also known for her cross-disciplinary interests and was awarded the distinguished Arts Institute Creative Arts Award while at UW-Madison for her work on the intersections of literature, music, and social history. She is a frequent performer at campuses across the country, and her articles have appeared in Clavier Companion, American Music Teacher, and International Piano. Her book, Debussy's Paris: Piano Portraits of the Belle Époque, appeared to excellent reviews in September, 2017.

Stacey McColley is instructor of clarinet at Florida Southern College and Southeastern University. Stacey serves as Principal Clarinet with the Charlotte Symphony Orchestra, Clarinet, Eb clarinet and Bass clarinet with the Southwest Florida Symphony Orchestra, Bass Clarinet with the Sarasota Opera, Principal Clarinet with Opera Naples, is the Solo Clarinetist with and Artistic Director of the Reflections Chamber Ensemble, an ensemble dedicated to the performance of contemporary chamber music, and served as Principal Clarinet for many years with the Opera Tampa Orchestra under Maestro Anton Coppola. In recent years Stacey has been guest soloist with ensembles across the country, including an appearance as a soloist at the FMEA convention in Tampa, Florida performing Scott McAllister's Concerto X. She appeared as a guest artist at the International Clarinet Association's Clarinet Fest in Austin, Tx., and was a featured performer at the ICA Festival in Madrid, Spain this summer. An active recitalist, she has appeared on Florida Southern College's prestigious Festival of Fine Arts, with a second appearance by popular demand. Stacey has her Master's Degree in Clarinet Performance from the University of California. While in California she studied with Mitchell Lurie, Kalmen Bloch, Michelle Zukovsky and William Powell. Stacey's students have been accepted into prestigious schools such as Julliard, Boston University, California Institute of the Arts, Tanglewood, Florida State University, University of Florida, DePaul University, Indiana University, New York University, and more. Stacey has had a close working relationship with composers for her entire career, and has been involved in many premieres and commissions. Stacey is a Buffet Group USA Artist, performing on Buffet clarinets.

Christopher Taylor has performed extensively around the world, having appeared in recent years not only throughout the U.S. but in Europe, China, Korea, Singapore, the Caribbean, and elsewhere. Ensembles with which he has appeared include the New York Philharmonic, the Los Angeles Philharmonic, and the Atlanta Symphony. Critics hail him as "frighteningly talented" (The New York Times) and "a great pianist" (The Los Angeles Times), and numerous awards have confirmed his high standing in the musical world (a Van Cliburn Competition Bronze Medal, an Avery Fisher Career Grant, an American Pianists' Association Fellowship). Apart from concertizing, he has taught at the University of Wisconsin-Madison since 2000 with a Paul Collins Endowed Professorship and pursues a wide variety of additional interests — most recently using his mathematical and computer skills in the design and construction of a new double-manual keyboard instrument.
Young Artists

Italian pianist Alvise Pascucci has been defined by music critics as an outstanding young pianist who possesses a virtuoso technique as well as musicianship of a high order. His repertoire covers a wide range from the Baroque to contemporary music. His 2019 commitments include concerts in New York at the Weill Recital Hall of Carnegie Hall, in Indiana where he will perform Rachmaninoff's 3rd piano concerto, Taiwan and Italy. To date he has been awarded over 60 prizes in National and International competitions. He has performed in various venues, including Steinway Hall in London, UK, Military Circle Hall in Ploieşti, Romania, Teatro degli Industri of Grosseto, Italy, Dar Sebastien in Hammamet, Tunisia, and the Gnessin Academy of Music concert hall in Moscow, Russia. He has played as a soloist with several orchestras including Orchestra Città di Grosseto, the Taipei Philarmonia Orchestra and the Philharmonic Orchestra of Ploiesti. In addition to the piano, Alvise started to learn the violin at the age of nine demonstrating his musical versatility. After graduating in September, 2006 from St.Cecilia conservatoire in Rome in violin, Mr. Pascucci decided to concentrate on his piano studies and completed his degrees in the R. Franci conservatoire of Siena, P. Mascagni Conservatoire of Livorno, International Piano Academy of Imola and Trinity Laban Conservatoire of London. He now lives in Indiana where he is now a graduate assistant at Ball State University, working towards an Artist Diploma under the instruction of Dr. Robert Palmer.

Violinist Aihua Zhang has appeared as soloist at the National Center for the Performing Arts in Beijing, Chamber Music Festival in Hainan, China, ClarinetFest in Belgium, InterHarmony International Music Festival in Italy, Sultzbach-Rosenburg International Music Festival in Germany, Pacific Music Festival in Japan, Aspen Music Festival in the U.S., among others. As chamber musician, she has performance widely in China, Europe, and the United States as well. She is a founding first violinist of the Laniakea String Quartet in Arizona, a group that recently won first place in 2019's Hong Kong International Chamber Music Competition. She is also a member of the Z Trio. She has collaborated in concerts with musicians such as Vadim Repin, Nikolaj Znaider, Joshua Bell, Leila Josefowicz, Stefan Jackiw, Daniel Hope, Fabio Luisi, Thomas Hengelbrock, and David Robertson. Currently, a doctoral candidate at Arizona State university's School of Music, studying under violin professor Danwen Jiang, Ms. Zhang holds an Assistant Professor of Violin at the Nanjing University of the Arts in China.
Program
Maurice Ravel (1875 – 1937): Alborada del gracioso, The Jester's Aubade from Miroirs Suite, Mirrors Suite

Alvise Pascucci, piano

John Corigliano (b.1938): Sonata for Violin and Piano

Aihua Zhang, violin
Christopher Taylor, piano

Franz Liszt (1811 – 1886): Rigoletto concert paraphrase, S.434

Alvise Pascucci, piano

Olivier Messiaen (1908-1992): From Vingt Regards sur l'Enfant-Jésus: Regard de l'Esprit de Joie
Nikolai Kapustin (b.1937): Twenty-Four Preludes in Jazz Style, Op.53

Christopher Taylor, piano

Johannes Brahms (1833 – 1897): Clarinet Trio in a minor, Op.114

Stacey McColley, clarinet
Misha Quint, cello
Catherine Kautsky, piano