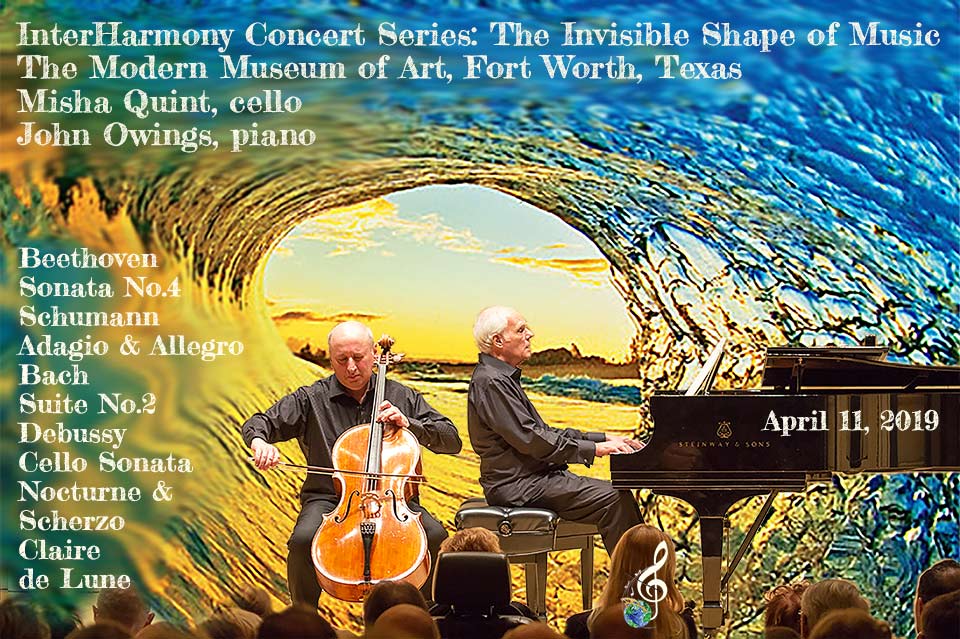 Graphic Design: Caitlin McConnell
InterHarmony Concert Series: The Invisible Shape of Music Performed by Cellist Misha Quint & Pianist John Owings at the Modern Museum of Art in Fort Worth, Texas on Apr 11 at 7:30PM
The core of the nature of creating melodic musical lines is the ability, with the sound of several notes, to express colorful feelings and images that make them personal to each listener - the invisible shape of music.
The program, The Invisible Shape of Music, on April 11 at 7:30PM, creates this invisible but powerful exhibition of a wide range of emotions, displaying all musical styles with the resolve of Beethoven, baroque Bach, capricious Schumann, and impressionistic Debussy. Cellist Misha Quint and pianist John Owings will perform this concert presented by InterHarmony® International Music Festival at the Modern Museum of Art in Fort Worth, Texas. Tickets are $35 for Adults, $30 for Seniors, and can be bought online at eventbrite.com or 2 hours before the concert at the door.
Starting with the meditation-like opening of the first movement of Beethoven's late Sonata No.4, his invisible melodic lines transform into heroic struggle. It almost feels as though Beethoven is fighting his own feelings, where every movement resurfaces something that somehow has not yet been said.
Following the Beethoven, J.S. Bach's Unaccompanied Cello Suite No.2 brings solitude as emotions transfer into the shape of the invisible prayer where each person may hear a desirable note for their heart.
Robert Schumann's Adagio and Allegro brings you through the cascades of subtle nuances and delicate phrases full of passion that are reflected in his major works.
At the end of the evening, spent with emotion, suddenly Misha Quint and John Owings bring Debussy's Clair de Lune to the stage, with its charm and finesse, melodic lines of Nocturne and Scherzo, and full fire of his Cello Sonata.
Mission finally accomplished.
Program
Beethoven
: Cello Sonata No.4, Op.102
J.S. Bach
: Suite No.2 in d minor, BWV 1008
Robert Schumann
: Adagio and Allegro, Op.70
Claude Debussy
: Nocturne and Scherzo for Cello and Piano
Claude Debussy
: Clair de Lune
Claude Debussy
: Sonata for Cello and Piano
Misha Quint, cello
John Owings, piano
PERFORMER BIOGRAPHIES

Cellist
MISHA QUINT
, 2016 Gold Medal Global Music Award winner for his CD Matryoshka Blues, performed with such celebrated as orchestras as Orquestra Sinfônica do Teatro Nacional do Brasilia, New York Chamber Orchestra, National Irish Symphony, Brooklyn Philharmonic, London Soloists Chamber Orchestra at Queen Elizabeth Hall, Moscow State Symphony Orchestra, Leningrad Philharmonic Orchestra, and Euro Sinfonietta Wien. Quint has performed under the batons of Maxim Shostakovich, Paul Lustig Dunkel, Colman Pearce, Sidney Harth, Ravil Martinov, Yaacov Bergman, Franz Anton Krager and Ira Levin, and premiered works of outstanding composers of today: Sophie Goubadalina, Robert Sirota, Nathan Davis, and Alfred Schnittke. Quint is Founder and Music Director of InterHarmony® International Music Festival in Acqui Terme, Piedmonz, Italy and Suzlbach-Rosenberg, Germany, and InterHarmony Concert Series at Carnegie Hall in New York City. Quint is on the faculty at Mannes College The New School for Music in Manhattan. 2017 Engagements include concerts in Italy, Germany, and Austria with Vadim Repin, Shlomo Mintz, Nikolaj Znaider, Bruno Canino, and Antonio Di Cristofano.
www.mishaquintcello.com

Praised for his exciting pianism and sensitive artistry, pianist
JOHN OWINGS
versatile career has ranged from solo and chamber music recitals to concerto appearances in major cities in the United States, Latin America, Europe, and Asia. His critically acclaimed CD recordings include piano music by Samuel Barber, Aaron Copland, Elliott Carter, Robert Casadesus, and Julius Reubke, as well as chamber music by Eric Ewazen, Richard Lavenda, Quincy Porter, and Elena Sokolowski. A native of San Antonio, Mr. Owings received his formal training at the University of Texas, The Royal College of Music in London, and The Juilliard School, where his teachers were Rosina Lhevinne and Martin Canin. His other teachers have included Dalies Frantz, Géza Anda, and Wilhelm Kempff. Gold medalist of the Robert Casadesus International Piano Competition in Cleveland, Mr. Owings also won the Vianna da Motta International Competition in Lisbon, the London Liszt Society Competition, and the Musical Arts Competition in Chicago. An experienced chamber music performer, Mr. Owings enjoys collaborating with many distinguished musicians. He is a member of Trio Con Brio – an ensemble that has commissioned and premiered new works by over a dozen living composers. A dedicated teacher, Mr. Owings' students have won national and international competitions and have successful careers as performers and educators. He has given master classes in the United States, England, Italy, Colombia, Peru, China, and Japan, and has been a guest artist at InterHarmony, MusicFest Perugia, Bucaramanga, the Round Top Festival, and PianoTexas International Academy and Festival. John Owings is Professor of Music and Chair of the Piano Division at Texas Christian University where he received the school's highest honor – the Chancellor's Award – in recognition of his performances of the 32 Beethoven Piano Sonatas. Six sonatas from these live performances have been issued on a CD recording.