2016 Dates
Italy

Session 1:
June 29 - July 11
Session 2:
July 12 - 24

Germany
For Classical Music Students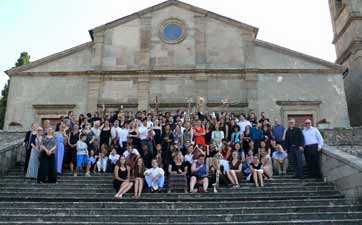 Summer Music Festival
InterHarmony International Music Festival, from June 29 - August 14, 2016, invites you to study with its internationally renowned faculty of soloists and chamber musicians for up to six weeks of string, piano, woodwind, brass, percussion, or vocal instruction in one of its gorgeous European settings. IIMF's piano and string professors bring together decades of pedagogical and performance experience, offering an international outlook with an edge honed in the famous Russian school. The woodwind, brass, and percussion tracks combine unique chamber music opportunities and starring orchestral roles, while the vocalists can specialize in either art song or opera. All students will enjoy a life-changing opportunity to develop their musical abilities, grow artistically, network with fellow musicians and perform in concert. Through our Outstanding Guest Artist Series, participants will be brought together with some of classical music's brightest lights. Past guests include Vadim Repin and Alfred Brendel.
This summer's festivals will be held in Arcidosso, Tuscany, Italy & Sulzbach-Rosenberg, Germany. Each session offers master classes on various instruments and numerous public concerts. Students will receive four one-hour private lessons, ample practice facilities, and the possibility to perform in orchestra and chamber ensembles following intensive coaching. Weekly excursions will take participants to a variety of stunning destinations in each locale.
For our Audiences
InterHarmony International Music Festival has been taking place in European and American cities for the past 15 summers, transports the excitement of its European music festivals to New York City for a series of 3 concerts for its fourth year. Come see our World Premieres and little-known works performed by amazing players.
Program and Performers: Misha Quint, cello
Davidov (1838 – 1889): Romance sans paroles, Op.23
Franck (1822 – 1890): Sonata for Cello and Piano
Schnittke (1934 – 1998): Suite in the Old Style
Bruch (1838 – 1920): Kol Nidrei, Op.47
Rodion Shchedrin (b 1932): "In the Style of Albeniz" for cello and piano
Prokofiev (1891 – 1953): Adagio, Op.97bis
Rimsky-Korsakov (1844 – 1908): Flight of the Bumblebee from The Tale of Tsar Saltan




Where:

Weill Recital Hall at Carnegie Hall

Address:

881 7th Avenue, New York, New York 10019

Tickets:

$35

When:

January 23, 2016, 8PM




Where:

Weill Recital Hall at Carnegie Hall

Address:

881 7th Avenue, New York, New York 10019

Tickets:

$35

When:

April 1, 2016, 8PM
Violinist Vadim Repin, pianist Bruno Canino, and pianist Alfred Brendel at InterHarmony
Outstanding Guest Artist Series
2016 Outstanding Guest Artist Series Updates Coming Soon!
New Outstanding Guest Artist Series promises new opportunities for students and audiences
InterHarmony International Music Festival is proud to introduce its new Outstanding Guest Artist series featuring the incomparable violinist Vadim Repin in Session I the Italian pianist Bruno Canino in Session II, and the legendary pianist Alfred Brendel in Session III .
We are excited to announce that Vadim Repin will be performing Bruch's romantic Violin Concerto No.1 in g minor with the InterHarmony Festival Orchestra at the final concert in Arcidosso's ancient Santuario della Madonna dell'Incoronata. This musical event promises not only an evening of enchantment for the audience, but a unique opportunity for students to perform on stage with one of the great living masters of the violin. Students will also have the chance to participate in a master class with the man Yehudi Menuhin once called "simply the best and most perfect violinist that I have ever had the chance to hear."
Bruno Canino will join the IIMF in Arcidosso this summer during its second session to offer a once in a lifetime master class. InterHarmony students will be invited to perform for and learn from this great artist. Then, on July 18th, Bruno Canino will join festival founder Misha Quint and violinist Andrzej Grabiec on the stage to perform Dvořák's great "Dumky" Piano Trio No. 4 in E minor.
Regularly cited as one of the instrument's greatest practitioners, Brendel enjoys a reputation unequalled among living pianists. Mr. Brendel will hold a lecture on Schubert's Last Sonatas, on August 10th, in the town hall of Sulzbach-Rosenberg. Students will be invited to listen to the ideas, insights and advice of one of the most reflective and articulate musicians of our times.