For Classical Music Students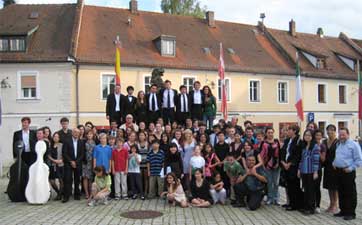 Summer Music Festival
InterHarmony International Music Festival offers you the opportunity to spend up to seven weeks in Europe studying with an internationally renowned faculty of well-known soloists and chamber musicians. The festival faculty combines their experience with elements of the famous Russian School to produce a unique and invaluable environment for learning and growth. This experience will allow students to significantly develop their musical abilities, achieve artistic growth, elevate their professional training, network with fellow musicians and perform in concert.
This summer festival will be held in Arcidosso, Tuscany, Italy & Sulzbach-Rosenberg, Germany. Each session offers four one-hour private lessons, ample practice facilities, and the opportunity to perform in orchestra and chamber ensembles coached by faculty members. Master classes will be offered on various instruments and there will be numerous festival concerts open to the public. There will be planned excursions to a variety of fascinating destinations in each locale.
For our Audiences
InterHarmony International Music Festival has been taking place in European and American cities for the past 14 summers, transports the excitement of its European music festivals to New York City for a series of 3 concerts for its third year. Come see our World Premieres and little-known works performed by amazing players.
Schumann: Piano Quintet in E-Flat Major, Op.44
Ravel: Tzigane
Flagello: Symphonic Variations
Shostakovich: Piano Quintet in g minor, Op.57


Haydn-Piatigorsky: Divertimento in D Major
Brahms: Cello Sonata No.2 in F Major, Op.99
Shulamit Ran: Fantasy Variations for Solo Cello
Rostropovich: Humoresque, Op.5
Ravel: Vocalise-étude en forme de Habañera
Klengel: Scherzo, Op.6
Paganini: Variations on a Theme of "Moses" by Rossini


When:

July 2, 2015 9:30PM

Who:

Misha Quint, cello; Inesa Sinkevych, piano
2015 Dates
Italy

Session 1: July 1-13
Session 2: July 14-26

Germany