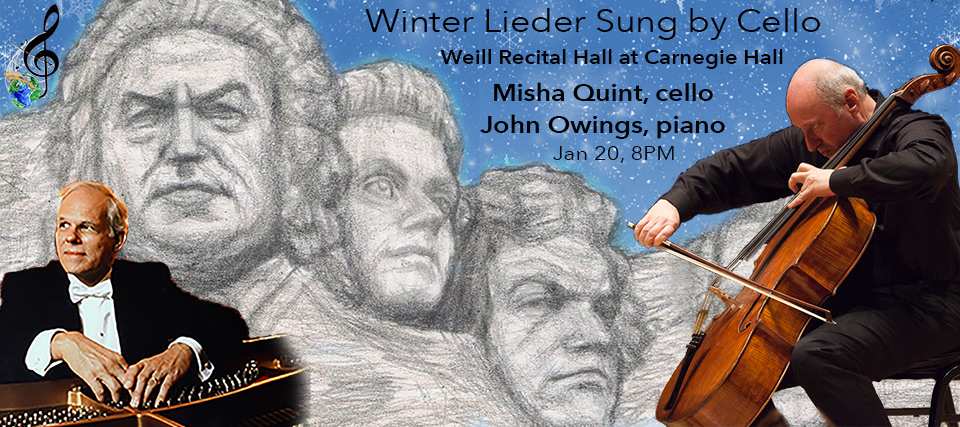 Graphic Design: Caitlin McConnell, Photography: Pauline St Denis
Cellist Misha Quint and Pianist John Owings Perform Winter Lieder Sung By Cello at Carnegie Hall on Jan 20 at 8PM
New York music lovers will have a chance to be present at "Winter Lieder Sung by Cello" on January 20 at 8pm, a recital of major works of the cello repertoire given by Russian American cellist Misha Quint and celebrated pianist John Owings, as part of the InterHarmony Concert Series presented by the InterHarmony® International Music Festival.
The unique closeness of the relationship between the cello and the human voice was always a subtle yet very pronounced quality of writing in the works of German composers J.S. Bach, Ludwig van Beethoven, Robert Schumann, and Woldemar Bargiel. Tickets are $40 and can be purchased by calling 212-247-7800, at www.carnegiehall.com, or at the box office on 57th and 7th Ave.
ABOUT THE PROGRAM
The opening with Adagio, written by Clara Schumann's half-brother, Bargiel, is the perfect example of singing lines of phrases that would be so typical for traditional German Lieder.
Followings is J.S. Bach's momentous Unaccompanied Cello Suite No.6, one of the most difficult pieces in cello repertoire, referred to by Mstislav Rostropovich as a "symphony for the cello". Left alone without piano accompaniment, the cello becomes a solo voice that creates an acapello singer effect that will bring a surprising acoustical contrast to the stage.
This music monologue will transfer into the epic work of the last Cello Sonata No.5 by Beethoven, that led all melodic lines to create complex, almost symbiotic tonal harmonies, especially visible in its fugue. Both Beethoven's Sonata No.5, and Bach's Suite No.6 are each composer's cello masterpiece and considered to be their most difficult and virtuosic.
Robert Schumann's imaginative Five Pieces in a Country (or Folk) Style illustrate Goethe's poetic story-telling, particularly in the first, Vanitas vanitum, which lists "with humor" as the tempo marking, and the third, which quotes one of Schumann's favorite lieder, In a dream I wept. These popular romantic songs couldn't be a better example of the concert's title, "Winter Lieder Sung by Cello".
Program
J.S. Bach (1685-1750): Unaccompanied Cello Suite No.6 in D Major, BWV 1012
Beethoven (1770-1827): Sonata for Cello and Piano No.5 in D Major, Op.102, No.2
Schumann (1810-1850): 5 Pieces in a Country Style for Cello and Piano, Op.102
Bargiel (1828-1897): Adagio in G Major, Op.38

Misha Quint, cello
John Owings, piano


PERFORMER BIOGRAPHIES

Cellist
MISHA QUINT
, 2016 Gold Medal Global Music Award winner for his CD Matryoshka Blues, performed with such celebrated as orchestras as Orquestra Sinfônica do Teatro Nacional do Brasilia, New York Chamber Orchestra, National Irish Symphony, Brooklyn Philharmonic, London Soloists Chamber Orchestra at Queen Elizabeth Hall, Moscow State Symphony Orchestra, Leningrad Philharmonic Orchestra, and Euro Sinfonietta Wien. Quint has performed under the batons of Maxim Shostakovich, Paul Lustig Dunkel, Colman Pearce, Sidney Harth, Ravil Martinov, Yaacov Bergman, Franz Anton Krager and Ira Levin, and premiered works of outstanding composers of today: Sophie Goubadalina, Robert Sirota, Nathan Davis, and Alfred Schnittke. Quint is Founder and Music Director of InterHarmony® International Music Festival in Acqui Terme, Piedmonz, Italy and Suzlbach-Rosenberg, Germany, and InterHarmony Concert Series at Carnegie Hall in New York City. Quint is on the faculty at Mannes College The New School for Music in Manhattan. 2017 Engagements include concerts in Italy, Germany, Austria, Egypt and Hong Kong, with Vadim Repin, Shlomo Mintz, Nikolaj Znaider, Bruno Canino, and Antonio Di Cristofano.
www.mishaquintcello.com

Praised for his exciting pianism and sensitive artistry, pianist
JOHN OWINGS
versatile career has ranged from solo and chamber music recitals to concerto appearances in major cities in the United States, Latin America, Europe, and Asia. His critically acclaimed CD recordings include piano music by Samuel Barber, Aaron Copland, Elliott Carter, Robert Casadesus, and Julius Reubke, as well as chamber music by Eric Ewazen, Richard Lavenda, Quincy Porter, and Elena Sokolowski. A native of San Antonio, Mr. Owings received his formal training at the University of Texas, The Royal College of Music in London, and The Juilliard School, where his teachers were Rosina Lhevinne and Martin Canin. His other teachers have included Dalies Frantz, Géza Anda, and Wilhelm Kempff. Gold medalist of the Robert Casadesus International Piano Competition in Cleveland, Mr. Owings also won the Vianna da Motta International Competition in Lisbon, the London Liszt Society Competition, and the Musical Arts Competition in Chicago. An experienced chamber music performer, Mr. Owings enjoys collaborating with many distinguished musicians. He is a member of Trio Con Brio – an ensemble that has commissioned and premiered new works by over a dozen living composers. A dedicated teacher, Mr. Owings' students have won national and international competitions and have successful careers as performers and educators. He has given master classes in the United States, England, Italy, Colombia, Peru, China, and Japan, and has been a guest artist at InterHarmony, MusicFest Perugia, Bucaramanga, the Round Top Festival, and PianoTexas International Academy and Festival. John Owings is Professor of Music and Chair of the Piano Division at Texas Christian University where he received the school's highest honor – the Chancellor's Award – in recognition of his performances of the 32 Beethoven Piano Sonatas. Six sonatas from these live performances have been issued on a CD recording.