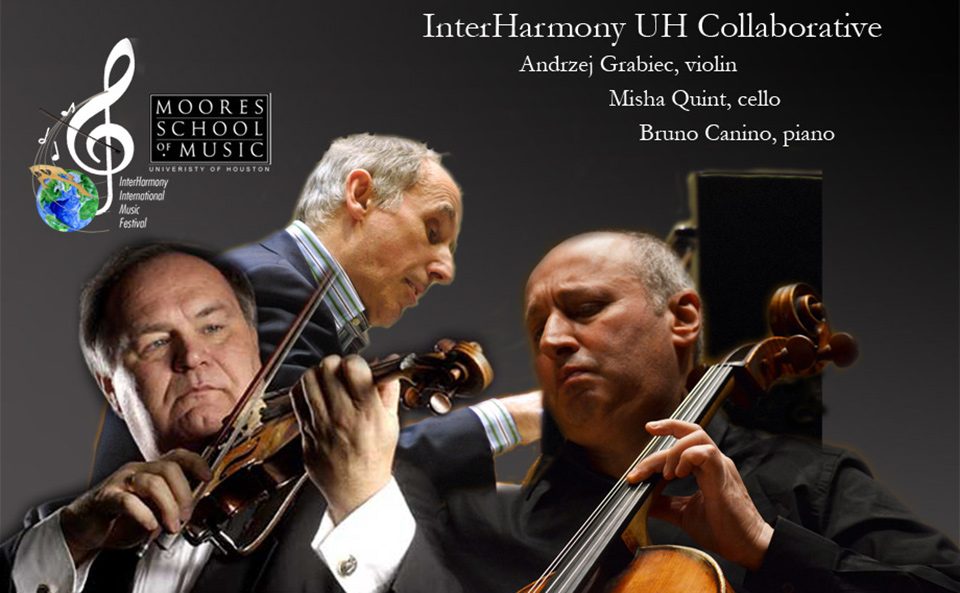 Graphic Design: Abby Gaudette, Caitlin McConnell
InterHarmony® International Music Festival and University of Houston Collaborate for Two Concerts with Guest Artists Bruno Canino and Cellist Misha Quint Joined by Violinist Andrzej Grabiec and Conductor Franz Anton Krager on April 29th and 30th at 7:30pm at Moores Opera House in Houston, TX
Author:

Noah Willumsen, Caitlin McConnell
The InterHarmony® International Music Festival is happy to announce its first collaboration with the University of Houston for two concerts, and will finally be able to bring highlights of its European and Carnegie programs to Texas turf. First, join us on April 29th for a trio concert featuring the legendary Italian pianist and IIMF Guest Artist, Bruno Canino, Festival Founder Misha Quint (cello), and longtime IIMF and UH professor Andrzej Grabiec (violin). On April 30th, the same stellar ensemble presents Beethoven's Concerto for Violin, Cello, and Piano, Op.56 with the UH Moores School Symphony Orchestra, conducted by Franz Anton Krager. Tickets for the April 29 event are gratis and for April 30 event are $17 for general admission and $12 for seniors, and can be purchased at the University of Houston School Moores School of Music Website at www.uh.edu/class/music/events-performances
ABOUT THE INTERHARMONY UH COLLABORATIVE
Every year, the InterHarmony® International Music Festival brings young performers to Europe to study with top-flight faculty and prestigious guest artists from around the globe. Now they are coming to Texas as a result of the vision of UH Professor of Conducting and Director of Orchestras, Franz Anton Krager, and IIMF Founder, cellist Misha Quint. Fresh from a run at Carnegie Hall, Misha Quint and Andrzej Grabie join Italian pianist Bruno Canino, a figure of legendary stature in the contemporary European musical scene. Their first concert offers a stormy program of trios by Dvořák, Rachmaninoff and Shostakovich. One day later, they are joined by the UH Moores School Symphony Orchestra for a rare opportunity to hear Beethoven's virtuosic masterpiece, the Concerto for Violin, Cello, and Piano, Op.56.
ABOUT THE MUSIC
Handel had his concerti grossi, Mozart his sinfonie concertanti, but Beethoven was sure that his Triple Concerto was "really something new": a concerto for piano trio. The Triple Concerto was written during the great creative outburst to which we owe the Eroica Symphony and the Waldstein Piano Sonata. In it Beethoven achieves a rare degree of intimacy for an orchestral work, with more of the elegance of his chamber music than the fireworks of his symphonies. Its first movement begins in an expectant hush, awaiting the soloists, who arrive one by one with balletic grace. The short, lyrical second movement pours straight into the final Rondo alla polacca, which soars upward with an almost boyish enthusiasm.
Rachmaninoff's early Trio Élégiaque, no.1, by contrast, is a study in barely restrained yearning. The piano's rising four-note them swims on a sea of thirty-second notes whipped up by the cello and violin. The mood shifts fluidly between melancholy desperation and wistful nostalgia, trapped in a cycle of longing, returning again and again to those four bittersweet notes, like a prayer.
Dvořák's Piano Trio No.4 in e minor, Op.90, Dumky is a compact, but unforgettable musical odyssey. In this freely structured collection of six "dumky,", Ukrainian ballads and laments, the cello, violin and piano sing the songs of a small people torn between great empires. This dark, Bohemian fantasy invites the listener deep into a forest of gnarled melodies, where sudden clearings open and mad dances whirl.
Shostakovich's Piano Trio, No. 2, Op.67 strikes a tragic tone. The year was 1944, the composer's good friend Ivan Sollertinsky had died and the country was nearing the end of hard war. Here, after the public bombast of his Leningrad symphony, was a private expression of doubt: anxiety for the future and sorrow for the past. Its premiere made a devastating impression – the audience wept openly and demanded encores. It was immediately banned.
PERFORMER BIOGRAPHIES

Born in Naples,
BRUNO CANINO
studied piano and composition at the Conservatorio Verdi in Milan, where he taught solo piano for 24 years. He has performed both as a soloist and a chamber musician in all the great concert venues of Europe, US, Australia, Japan and China. For over forty years he has been regularly performing with Antonio Ballista, his piano Duo partner, and since thirty he is a member of the Trio of Milan. Bruno Canino regularly performs with such eminent musicians as Salvatore Accardo, Lynn Harrell, Viktoria Mullova, Itzhak Perlman, and Uto Ughi, among others. For many years he has been Artistic Adviser of the Giovine Orchestra Genovese and, later, of the International Music Campus in Latina for the autumn season. At the moment Bruno Canino is the Director of the Venice Biennale Music Department. Bruno Canino is deeply interested in contemporary music and has collaborated with such distinguished composers as Pierre Boulez, Luciano Berio, Karl-Heinz Stockhausen, Georg Ligeti, Bruno Maderna, Luigi Nono, Sylvano Bussotti and others, the works of whom he has often premiered. Bruno Canino''s recent recordings include the Goldberg Variations, the complete piano works by Casella, and lately it has been released the first CD of the complete Debussy piano works. He holds a master-class of piano and chamber music of the XX century at the Bern Conservatory. In 1997 Passigli Editions published his book "Vademecum for a chamber pianist".

Cellist
MISHA QUINT
made his orchestral debut at the age of 13 after winning first place in the Boccherini Competition in St. Petersburg. Some of the celebrated orchestras that Quint has performed with include: Orquestra Sinfônica do Teatro Nacional do Brasilia, The Metropolitan Symphony, New York Chamber Orchestra, The National Irish Symphony, Brooklyn Philharmonic, London Soloists Chamber Orchestra at Queen Elizabeth Hall, The Moscow State Symphony Orchestra, The Leningrad Philharmonic Orchestra, Leningrad State Orchestra, Orchestra of Classical and Contemporary Music and the Symphony Orchestras of Latvia and Georgia. Quint has worked with an equally illustrious group of conductors, including Maxim Shostakovich, Paul Lustig Dunkel, Colman Pearce, Sidney Harth, Ravil Martinov, Camilla Kolchinsky, Yaacov Bergman, Franz Anton Krager and Ira Levin, and premiered works the most outstanding composers of today including Sophie Goubadalina, Robert Sirota, Steven Gerber, Thomas Fortmann, Nathan Davis, and Alfred Schnitke. Quint is an active chamber musician and has performed with such artists as Nikolai Znaider, Bela Davidovich, Bruno Canino, Sherban Lupu, Andrzej Grabiec, Yuri Gandelsman, Boris Kushnir, and Mikhail Kopelman. Quint started founding music festivals in Europe in 1997 with the creation of The International Cello Festival in Blonay, Switzerland, followed by the Soesterberg International Music Festival in Holland in 1998. Quint established the InterHarmony Music Festival in Geneva, Switzerland in 2000, and has since moved iterations of the festival to San Francisco, the Berkshires in Massachusettes, Schwarzwald, Germany, Sulzbach-Rosenberg, Germany, and Tuscany, Italy, as well as the InterHarmony Concert Series at Carnegie Hall in New York City. Quint is currently on the faculty of the Preparatory Division at Mannes College The New School for Music, in Manhattan. Quint will release a new recording on the Blue Griffin Label called "Matryoshka Blues" in February 2016.
www.mishaquintcello.com

American born and trained, conductor
FRANZ ANTON KRAGER
has made his artistic presence felt both at home and abroad with performance engagements in some of the world's most celebrated concert halls and musical centers. Since making his prize-winning European conducting debut in Copenhagen's Tivoli Koncertsalen in 1978, Krager has led orchestras in the Leipzig Gewandhaus, Moscow's State Kremlin Palace, Manchester England's Bridgewater Hall, Birmingham England's Adrian Boult Hall, Guangzhou China's Xinghai Music Center, the Sydney Opera House, The Hague's Congresgebouw, Kazan's State Philharmonic Hall in Russia, Guadalajara's Degollado Theater, and Sarasota's Van Wezel Performing Arts Hall. His affiliations with leading music festivals include the Lancaster International Concert Series and the Lichfield and Aberystwyth International Arts Festivals in the U.K., and the Texas Music Festival and Interlochen National Music Camp in the U.S. Maestro Krager has led the Houston, Russian State, Traverse City Michigan and Florida West Coast symphonies, Romanian and Kazan State philharmonics; symphony orchestras in Berlin, London, Paris, Singapore, Leipzig, Monterrey, Pordenone, Ingolstadt, Neuss, and Honolulu, and was Principal Guest Conductor in Stratford, England from 2000-2004. In 2015, he was appointed Principal Guest Conductor of the North Shore Chamber Arts Ensemble in Chicago. Krager is Music Director & Chief Conductor of the Texas Music Festival, Founding Co-Artistic Director for the Virtuosi of Houston, Artist-in-Residence at The Kinkaid School and Evaluator/Clinician for the Orchestra America National Festival. Krager is also Professor of Conducting, Director of Orchestras, and Chair of the Conducting Department at the University of Houston Moores School of Music, where he has brought the orchestra and orchestral conducting program into the realm of national prominence. The Moores School Orchestra is heard frequently on National Public Radio and has commercially recorded the music of Thomas Fortmann, Percy Grainger, Michael Horvit, Peter Lieuwen, Robert Nelson, and Stephen Shewan on the Divine Art (Métier), Albany, MSR Classics, Newport, and "Surround-Sound Blu-Ray Audio" HDTT record labels.

Violinist
ANDRZEJ GRABIEC
, prizewinner at the Fifth International Henryk Wieniawski Violin Competition in Poland (1967) and the International Jacques Thibaud Violin Competition in Paris, France (1969), made his debut with Opole Philharmonic Orchestra in Poland at age 14. He studied at the Szymanowski Academy of Music in Katowice, Poland, where he was later appointed Professor of Violin. He went on to become a soloist and concertmaster of the Great Symphony Orchestra of the Polish National Radio and Television and the leader of Capella per Musica da Camera. Grabiec became concertmaster at the Rochester Philhamonic, the Wichita Symphony Orchestra in Kansas, as well as Music Director of the Mozart Festival Chamber Orchestra. Grabiec became Professor of Violin at the Moores School of Music at the University of Houston in 1995. He performed with the Houston Symphony in 1999, and is a founder and Artistic Co-Director of the Virtuosi of Houston. Invited by Australia's government, Grabiec served as Artistic Director of an Olympic Arts Tour throughout Australia, New Zealand, and the South Pacific Islands, where he also performed as a violin soloist and conductor in 1999. In 2002 Grabiec performed the world premiere of Concerto for Violin and Orchestra, "Seren", by American composer Peter Lieuwen, and was its dedicee. Grabiec made his Chinese debut in 2008 in Guangzhou, China with master classes and a performance of Saint-Saens Violin Concerto with the Xinghai Conservatory Symphony Orchestra. He has performed under conductors such as Pierre Boulez, Erich Leinsdorf, Krzysztof Penderecki, Witold Lutoslawski, Kazimierz Kord, Mark Elder, and Erich Bergel and continues to teach and perform at a litany of music festivals around the world.