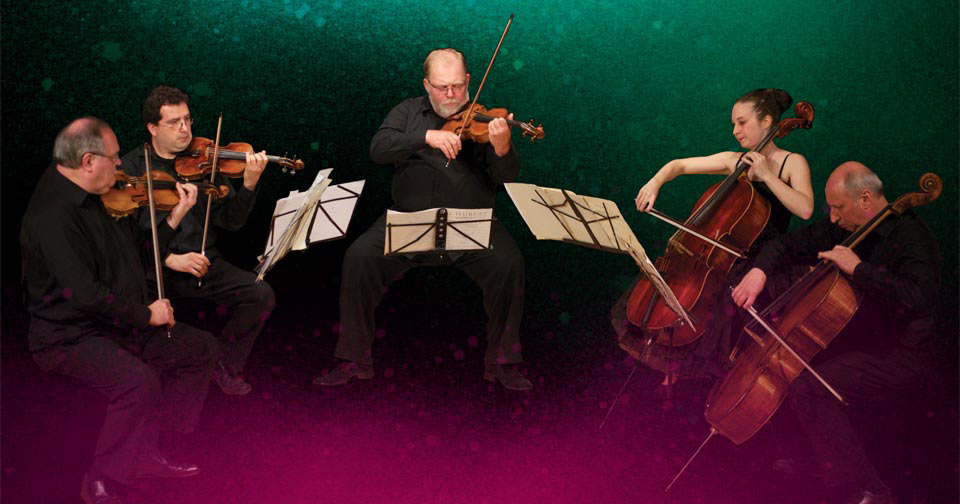 Three works for strings slated to be performed at Weill Recital Hall, November 22 at 8PM
"Strings Attached," the first in a series of three concerts presented by InterHarmony International Music Festival, will be performed at Weill Recital Hall on November 22 at 8pm. The two concerts following "Strings Attached" will take place on January 24 and April 25 at 8pm.
Concert is first of three at Weill to be presented by InterHarmony International Music Festival
Celebrating three iterations of the string ensemble, "Strings Attached" features a unique transcription of Dvorak's "Terzetto in C Major, Op 74," in which a cello replaces the part of the work assigned to a viola. The three-part performance continues with a rendition of Kodaly 's "Duo for Violin and Cello, Op. 7" and Schubert's "String Quintet in C Major." Cellist Misha Quint, InterHarmony's Music Director and Founder, will perform in all three acts.
Dvorak's "Terzetto" was originally written in 1887 for two violins and a viola, in an effort to accommodate the talent of a chemistry student, an amateur violinist who was staying at the composer's home. The addition of the cello, and the replacement of second violin, gives "Terzetto" a deeper sound, transforming the piece from "a truffle" to a work of greater resonance. Cellist Misha Quint, violinist Andrzej Grabiec, and violist Yuri Gandelsman will perform this first piece.
Described as a symphony for two instruments, Kodaly's "Duo for Violin and Cello" embodies the composer's assimilation of European folk material into the art music for which he and Bartok were so renowned. "Duo," which was composed in 1914 and premiered a decade later, is an exhilarating showpiece that demands impeccable virtuosity from its performers. The melody and echoing response between violin and cello constantly interweave to form an exciting musical give-and-take. Kodaly's "Duo" continues with an alternating tempo that defines the music's rhapsodic tone and texture, with the violin and cello taking on a swaying exchange that beckons to its folkloric roots. Andrzej Grabiec and Misha Quint will perform "Duo".
With its perfect confluence of melodies, Schubert's "String Quintet in C Major," the composer's last work before his untimely death at 31, resonates with celestial beauty and gentle poignancy, affirming Schubert's reputation as a composer of unrivaled melodic invention. Andrzej Graiec, violin; Miroslav Hristov, violin; Yuri Gandelsman, viola; Misha Quint, cello; and Caitlin McConnell, cello will perform this piece.
Artist Bios
Cellist MISHA QUINT made his orchestral debut at the age of 13 after winning first place in the Boccherini Competition in St. Petersburg. Some of the celebrated orchestras that Quint has performed with include: Orquestra Sinfônica do Teatro Nacional do Brasilia, The Metropolitan Symphony, New York Chamber Orchestra, The National Irish Symphony, Brooklyn Philharmonic, London Soloists Chamber Orchestra at Queen Elizabeth Hall, The Moscow State Symphony Orchestra, The Leningrad Philharmonic Orchestra, Leningrad State Orchestra, Orchestra of Classical and Contemporary Music and the Symphony Orchestras of Latvia and Georgia. Quint has worked with an equally illustrious group of conductors, including Maxim Shostakovich, Paul Lustig Dunkel, Colman Pearce, Sidney Harth, Ravil Martinov, Camilla Kolchinsky, Yaacov Bergman, Franz Anton Krager and Ira Levin, and premiered works the most outstanding composers of today including Sophie Goubadalina, Robert Sirota, Steven Gerber, Thomas Fortmann, Nathan Davis, and Alfred Schnitke. Quint is an active chamber musician and has performed with such artists as Nikolai Znaider, Bela Davidovich, Sherban Lupu, Andrzej Grabiec, Yuri Gandelsman, Boris Kushnir, and Mikhail Kopelman. Quint started founding music festivals in Europe in 1997 with the creation of The International Cello Festival in Blonay, Switzerland, followed by the Soesterberg International Music Festival in Holland in 1998. Quint established the InterHarmony Music Festival in Geneva, Switzerland in 2000, and has since moved iterations of the festival to San Francisco, the Berkshires in Massachusettes, Schwarzwald, Germany, Sulzbach-Rosenberg, Germany, and Tuscany, Italy. Quint is currently on the faculty of the Preparatory Division at Mannes College The New School for Music, in Manhattan.www.mishaquintcello.com
Violist YURI GANDELSMAN has been performing internationally as a soloist, chamber musician, and conductor for over thirty years. Born in Tashkent in 1951, Gandelsman studied in Moscow with Heinrich Talalyan of the Komitas Quartet, and Valentin Berlinsky, cellist of the Borodin Quartet. As a student in 1974, he assumed a position with the Moscow Philharmonic Orchestra under Kiril Kondrashin, and proceeded to win the National Viola Competition in 1980. Gandelsman went on to join the Moscow Virtuosi Chamber Orchestra as a principal violist and soloist, and quickly became one of the leading musicians in the former Soviet Union. He has performed with Sviatoslav Richter, Evgeny Kissin, Oleg Kagan, Natalia Gutman, Yuri Bashmet, the Borodin Quartet, and the Shostakovich Quartet. Gandelsman was the principal violist of the Israeli Philharmonic under Zubin Mehta, and has performed solo recitals throughout the world. He was a member of the Fine Arts Quartet, as well as a former professor at The Samuel Rubin Israeli Academy of Music in Tel Aviv University, now the Buchmann-Mehta School of Music, and is currently a professor at Michigan State University College of Music.
Violinist ANDRZEJ GRABIEC, prizewinner at the Fifth International Henryk Wieniawski Violin Competition in Poland (1967) and the International Jacques Thibaud Violin Competition in Paris, France (1969), made his debut with Opole Philharmonic Orchestra in Poland at age 14. He studied at the Szymanowski Academy of Music in Katowice, Poland, where he was later appointed Professor of Violin. He went on to become a soloist and concertmaster of the Great Symphony Orchestra of the Polish National Radio and Television and the leader of Capella per Musica da Camera. Grabiec became concertmaster at the Rochester Philhamonic, the Wichita Symphony Orchestra in Kansas, as well as Music Director of the Mozart Festival Chamber Orchestra. Grabiec became Professor of Violin at the Moores School of Music at the University of Houston in 1995. He performed with the Houston Symphony in 1999, and is a founder and Artistic Co-Director of the Virtuosi of Houston. Invited by Australia's government, Grabiec served as Artistic Director of an Olympic Arts Tour throughout Australia, New Zealand, and the South Pacific Islands, where he also performed as a violin soloist and conductor in 1999. In 2002 Grabiec performed the world premiere of Concerto for Violin and Orchestra, "Seren", by American composer Peter Lieuwen, and was its dedicee. Grabiec made his Chinese debut in 2008 in Guangzhou, China with master classes and a performance of Saint-Saens Violin Concerto with the Xinghai Conservatory Symphony Orchestra. He has performed under conductors such as Pierre Boulez, Erich Leinsdorf, Krzysztof Penderecki, Witold Lutoslawski, Kazimierz Kord, Mark Elder, and Erich Bergel and continues to teach and perform at a litany of music festivals around the world.
Violinist MIROSLAV HRISTOV has been hailed by Fanfare Magazine for his "fine technique and a full palette of tonal colors." In 2012, he was a featured soloist in the Carnegie Hall presentation, "Music from the Balkans: Crossroads of Civilization", where he performed for dignitaries of over a dozen European nations. He has presented master classes and performed as a soloist, chamber musician, and orchestra leader throughout the United States, Mexico, Puerto Rico, France, Portugal, Spain, Germany, Poland, Croatia, Greece, Norway, Sweden, as well as his native Bulgaria. Previously, he taught violin in the Universidad Autonoma de Nuevo Leon in Monterrey, Mexico where he served as Principal Second Violin of the Orquesta de Camara de Monterrey and the Orquesta Sinfonica de la Universidad de Nuevo Leon. In 1995, he was First Prize winner of the National Violin Competition "Dobrin Petkov" in Bulgaria, and was later invited as a soloist to perform with the Plovdiv Philharmonic. In 1998, he was a prizewinner for the MTNA Collegiate String Performance Competition. As a former winner of MTNA, he also serves on the juries of several string competitions. For eleven seasons, he served as both Associate Concertmaster and Acting Concertmaster with the Knoxville Symphony, performing numerous chamber and solo recitals as first violinist in the Knoxville Symphony Orchestra Principal Quartet. As a soloist and chamber musician, he has recorded for Centaur Records, Bulgarian National Radio and WUOT in Knoxville.
Cellist CAITLIN QUINN McCONNELL, winner of Gladys W. Fisher Violoncello Award, the PFMC Award, the Harvey Gaul Award recognizing artistic potential, Agnes Fowler/Marie V. Thiesen Award and the Lawrence Foster Violoncello Award among others, has performed extensively in the United States, and Europe. McConnell was part of different festivals including Soesterberg International Music Festival in Holland, the Sulzbach-Rosenberg International Music Festival in Germany, the Festival of the Musical Citadel in Brasov, Romania, and the InterHarmony International Music Festival in The Berkshires in Massachusetts; San Francisco, California; Hinterzarten, Germany; and Italy. McConnell was featured on Oberpfaltz TV in Bavaria, Germany and television in Brasov, Romania. She performed in the Isaac Stern Auditorium at Carnegie Hall as part of the New York Women's Ensemble in November of 2011, and performed Tchaikovsky's "Souvenir de Florence" at the Weill Recital Hall at Carnegie Hall in New York in March of 2013. McConnell graduated with a Masters from Duquesne University under the tutelage of Misha Quint. McConnell is also a scholar, and her work has been published in the International Jazz Archives Journal, distributed to 20 countries.