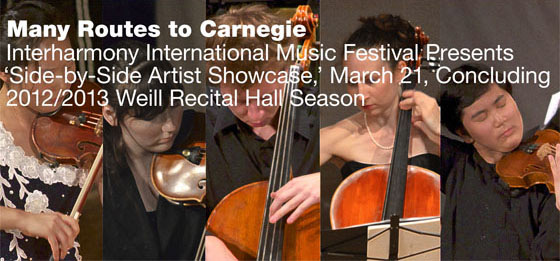 InterHarmony International Music Festival Presents 'Side-by-Side Artist Showcase' March 21, Concluding 2012/2013 Weill Recital Hall Season
How do you get to Carnegie Hall? Practice, practice, practice. Yes. Yes. Yes. But sometimes an airplane would help. As in the case of 13-year-old pianist Miu Ishikawa who is jetting to New York from Tokyo to perform as part of "Side-by-Side Artist Showcase" at Carnegie's Weill Recital Hall, March 21 at 8pm. The event is a first of its kind.
Produced by InterHarmony International Music Festival, which was founded and directed by cellist Misha Quint, the evening showcases the most gloriously talented students who have participated in the prestigious 12-year-old festival, which takes place in three different European cities each summer. Each festival concludes with an Artist Showcase joining the professional musicians with the best of the participating students.
The March 21 concert also joins acclaimed professional musicians with the best of the budding young artists. Seasoned pianist Svetlana Gorokhovich will accompany both 10-year-old Noelle Midori Naito in Antonio Bazzini's "The Dance of the Goblins" and her 12-year-old brother violinist Kenneth Naito in Manuel de Falla-Kreisler's "Danse Espagnole." She will also accompany 18-year-old cellist Chris Beroes-Hagis as he performs Tchaikovsky's "Nocturne for Cello and Piano, Op. 19, No. 4." Miu Ishikawa will perform Franz Liszt's "Ricordanza" from his "Transcendental Etudes."
The Prelude from Johann Sebastian Bach's "Unaccompanied Cello Suite, No. 3 in C Major" will be played by 14-year-old Hastings-on-Hudson native, Luming Chan. Virginia native, 17-year-old violinist Ànnika Jenkins will play Franz Waxman's "Carmen Fantasie" and 26-year-old violinist Bora Jeong will perform Maurice Ravel's "Tzigane."
With its perfect confluence of melodies, Schubert's "String Quintet in C Major," the composer's last work before his untimely death at 31, resonates with celestial beauty and gentle poignancy, affirming Schubert's reputation as a composer of unrivaled melodic invention. Andrzej Graiec, violin; Miroslav Hristov, violin; Yuri Gandelsman, viola; Misha Quint, cello; and Caitlin McConnell, cello will perform this piece.
The second half of the program includes Chopin's "Nocturne, No. 4 in F Major, Op. 15" and Toru Takemitsu's "Rain Tree Sketch," works played by pianist Etsuko Terada. The evening concludes with a "Side-by-Side" of Tchaikovsky's lyrically complex "Souvenir de Florence, Op. 70," one of the composer's last pieces, performed by violinists Andrzej Grabiec and Bora Jeong, violists Marylène Gingras-Roy and Matthew Pickart, and cellists Misha Quint and Caitlin Quinn McConnell. McConnell, Jeong and Pickart are former students at the Festival.
Artist Bios
Cellist MISHA QUINT made his orchestral debut at the age of 13 after winning first place in the Boccherini Competition in St. Petersburg. Some of the celebrated orchestras that Quint has performed with include: Orquestra Sinfônica do Teatro Nacional do Brasilia, The Metropolitan Symphony, New York Chamber Orchestra, The National Irish Symphony, Brooklyn Philharmonic, London Soloists Chamber Orchestra at Queen Elizabeth Hall, The Moscow State Symphony Orchestra, The Leningrad Philharmonic Orchestra, Leningrad State Orchestra, Orchestra of Classical and Contemporary Music and the Symphony Orchestras of Latvia and Georgia. Quint has worked with an equally illustrious group of conductors, including Maxim Shostakovich, Paul Lustig Dunkel, Colman Pearce, Sidney Harth, Ravil Martinov, Camilla Kolchinsky, Yaacov Bergman, Franz Anton Krager and Ira Levin, and premiered works the most outstanding composers of today including Sophie Goubadalina, Robert Sirota, Steven Gerber, Thomas Fortmann, Nathan Davis, and Alfred Schnitke. Quint is an active chamber musician and has performed with such artists as Nikolai Znaider, Bela Davidovich, Sherban Lupu, Andrzej Grabiec, Yuri Gandelsman, Boris Kushnir, and Mikhail Kopelman. Quint started founding music festivals in Europe in 1997 with the creation of The International Cello Festival in Blonay, Switzerland, followed by the Soesterberg International Music Festival in Holland in 1998. Quint established the InterHarmony Music Festival in Geneva, Switzerland in 2000, and has since moved iterations of the festival to San Francisco, the Berkshires in Massachusettes, Schwarzwald, Germany, Sulzbach-Rosenberg, Germany, and Tuscany, Italy. Quint is currently on the faculty of the Preparatory Division at Mannes College The New School for Music, in Manhattan.www.mishaquintcello.com
MARYLÈNE GINGRAS-ROY, a native of Québec City, Canada, joined the Pittsburgh Symphony Orchestra viola section in the 1997 season, and in 2004 was promoted to fourth chair. She studied at the Conservatoire de Musique de Québec with Douglas McNabney and François Paradis and graduated in 1993 with unanimous First Prizes in both in viola and chamber music. She was then the recipient of Canada and Québec Arts Councils' Scholarship Grants, enabling her to attend the Harid Conservatory with Victoria Chiang and received an Artist Diploma in 1997 at the Curtis Institute of Music with Karen Tuttle and Joseph DePasquale. She teaches at Duquesne University and coaches viola for the Three Rivers Young People Orchestra. Marylène has also taught at summer music festivals such as: Domaine Forget, Québec, InterHarmony International Music Festival in Germany and Italy.
Violinist ANDRZEJ GRABIEC, prizewinner at the Fifth International Henryk Wieniawski Violin Competition in Poland (1967) and the International Jacques Thibaud Violin Competition in Paris, France (1969), made his debut with Opole Philharmonic Orchestra in Poland at age 14. He studied at the Szymanowski Academy of Music in Katowice, Poland, where he was later appointed Professor of Violin. He went on to become a soloist and concertmaster of the Great Symphony Orchestra of the Polish National Radio and Television and the leader of Capella per Musica da Camera. Grabiec became concertmaster at the Rochester Philhamonic, the Wichita Symphony Orchestra in Kansas, as well as Music Director of the Mozart Festival Chamber Orchestra. Grabiec became Professor of Violin at the Moores School of Music at the University of Houston in 1995. He performed with the Houston Symphony in 1999, and is a founder and Artistic Co-Director of the Virtuosi of Houston. Invited by Australia's government, Grabiec served as Artistic Director of an Olympic Arts Tour throughout Australia, New Zealand, and the South Pacific Islands, where he also performed as a violin soloist and conductor in 1999. In 2002 Grabiec performed the world premiere of Concerto for Violin and Orchestra, "Seren", by American composer Peter Lieuwen, and was its dedicee. Grabiec made his Chinese debut in 2008 in Guangzhou, China with master classes and a performance of Saint-Saens Violin Concerto with the Xinghai Conservatory Symphony Orchestra. He has performed under conductors such as Pierre Boulez, Erich Leinsdorf, Krzysztof Penderecki, Witold Lutoslawski, Kazimierz Kord, Mark Elder, and Erich Bergel and continues to teach and perform at a litany of music festivals around the world.
SVETLANA GOROKHOVICH has performed in international music festivals in Holland, Germany, Italy and New York. She has worked with Misha Quint since 2005. Her latest performances include recitals in Zankel Hall, Weill Recital Hall and Ridotto Music Series. Gorokhovich received her music training in the Kazan State Conservatory and her Ph.D. from St. Petersburg State Conservatory, studying with distinguished professor Tatiana Kravchenko. She immigrated to the U.S. in 1989. Gorokhovich was the 1997 winner of the Bartok-Kabalevsky- Prokofiev International Piano Competition at Radford University and the 1999 IBLA international competition in Italy. Her solo recital at Carnegie Hall in 2000 was highly acclaimed by the New York Concert Review. Her most recent recording, "One Piano Four Hands," was released in 2012 by SMH Records. She toured world-wide with violinist Dmitri Berlinsky from 1991 –1996. Their recording, "Souvenir D'un Lieu Cher" (Helicon), released in 1997, received enthusiastic reviews. Gorokhovich is on the piano faculty of the Music Conservatory of Westchester in White Plains, New York.
ETSUKO TERADA began piano lessons at the age of four in Tokyo, and later when she was 16, she entered the Vienna Academy where she studied with Dieter Weber. After graduating from the Vienna Academy with highest honors she moved to New York City to study with Sascha Gorodnitzky at Juilliard School (post graduate diploma) and later with Menahem Pressler at Indiana University (artist diploma) where she taught as Mr.Pressler's assistant. She won the third prize and a Gold medal at the second Arthur Rubinstein International Piano Competition in Tel Aviv when Maestro Rubinstein himself was on a Jury, was a prize winner of the Leeds International Piano Competition, and received the Chopin Society Award in Japan. She moved back to her native country Japan after 11 years of study abroad and has been an active performer in Japan as well as Europe and the US. She appeared as a soloist with all the major orchestras in Japan such as the NHK Symphony Orchestra, Japan Philharmonic Orchestra, Tokyo Metropolitan Orchestra, Tokyo Symphony Orchestra, Yomiuri Symphony Orchestra, Osaka Philharmonic Orchestra, Nagoya Philharmonic Orchestra, Sendai Philharmonic Orchestra and Sapporo Symphony Orchestra among others. She also played chamber music concerts with many world prominent players such as principal string players of the Vienna Philharmonic Orchestra, Gewandhaus String Quartett , Prazak Quartett, and at the Prague's Spring Festival with the Prague Symphony Orchestra. In 1979, Etsuko Terada made her debut in London and since then she has toured in Germany, Finland, Latvia, Russia, Mexico, Panama, Peru, Bulgaria, Israel, Taiwan, and the US where she performed with the Israel Philharmonic Orchestra, the BBC Northern Orchestra, the Helsinki Philharmonic Orchestra, the Leipzig Radio Orchestra, the Dresden Philharmonic Orchestra, the Sophia Philharmonic Orchestra, Denver Symphony Orchestra, etc. with conductors including: Eliahu Imbal, Akeo Watanabe, Jiri Belohlavek, Sir Charles Mackerras Hiroyuki Iwaki, Brian Priestman, Philippe Entremont and Takashi Asahina. She has been a professor of Nihon University College of Art graduate school in Tokyo since 2000. Etsuko Terada has made many recordings such as Chopin's Piano Concerto No.1, Mozart Piano Concerto No.23 K488 with Vienna Symphony Orchestra (Sony Label), solo works of two Chopin albums, Schumann album and a Mozart Sonata album (by Canyon Records and Exton Label.)
Performers
Artist Teachers
Marylène Gingras-Roy, viola
Svetlana Gorokhovich, piano
Andrzej Grabiec, violin
Misha Quint, cello
Etsuko Terada, piano
Young Artists
Chris Beroes-Hagis, cello
Luming Chan, cello
Miu Ishikawa, piano
Annika Jenkins, violin
Bora Jeong, violin
Caitlin McConnell, cello
Noelle Midori Naito, violin
Kenneth Naito, violin
Matthew Pickart, viola
Program
Antonio Bazzini (1818 – 1897):The Dance of the Goblins, Scherzo fantastique, Op.25
Noelle Midori Naito, violin
Svetlana Gorokhovich, piano

Franz Liszt (1811 – 1886): "Ricordanza" from Études d'exeécution transcendante
Miu Ishikawa, piano

Manuel de Falla- Kreisler (1875 – 1962): Danse Espagnole from "La Vida Breve"
Kenneth Naito, violin
Svetlana Gorokhovich, piano

Johann Sebastian Bach (1685 – 1750): Prelude from Unaccompanied Cello Suite No.3 in C Major
Luming Chan, cello

Franz Waxman (1906 – 1967): "Carmen Fantasie" based on themes from the Opera of Bizet
Ànnika Jenkins, violin
Svetlana Gorokhovich, piano

Carl Davidoff (1838 – 1889): At the Fountain, Op.20
Pyotr Ilyich Tchaikovsky (1840 – 1893): Nocturne for cello and piano, Op.19, No.4
Chris Beroes-Hagis, cello
Svetlana Gorokhovich, piano

Maurice Ravel (1875 – 1937): Tzigane
Bora Jeong, violin
Svetlana Gorokhovich, piano

INTERMISSION

Frederic Chopin (1810 – 1849): Nocturne No.4 in F Major op.15-1
Toru Takemitsu (1930 – 1996): Rain Tree Sketch
Etsuko Terada, piano

Pyotr Ilyich Tchaikovsky (1840 – 1893): Souvenir de Florence String Sextet, Op.70
Andrzej Grabiec, violin
Bora Jeong, violin
Marylène Gingras-Roy, viola
Matthew Pickart, viola
Misha Quint, cello
Caitlin Quinn McConnell, cello
Photo: David Milkis