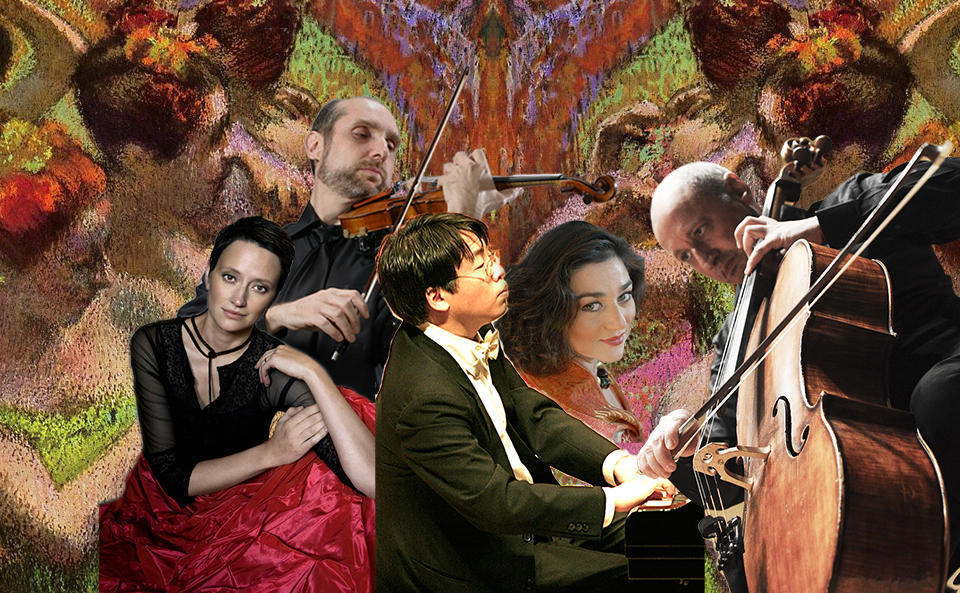 Graphic Design: Caitlin McConnell
Romantic Impressions: Coming to Weill Recital Hall at Carnegie Hall on November 5
The InterHarmony® International Music Festival opens its 2016 Concert Series with a burst of color in this kaleidoscopic program, featuring violin, cello, piano and soprano in ever-changing ensembles. Join Founder Misha Quint (cello) and festival artists as they celebrate music's direct connection to the heart. Tickets are $40, and can be purchased by calling CarnegieCharge at 212-247-7800, at the Carnegie Hall box office located at West 57th and Seventh Avenue, or online at www.carnegiehall.org.
About the Program
"Love! love! love! is the soul of a genius": these words from Mozart's family album could be a motto for all music. In Romantic Impressions, composers explore all aspects of the greatest of human feelings. From the redemptive power of Shostakovich's rarely performed masterpiece 7 Romances on Poems by Alexander Blok to the sentimental sigh of Debussy's waltz La plus que lente, from the poetry of Rachmaninov's greatest love song, to the wordless wistfulness of André Previn's Vocalise: if music be the food of love, play on, play on …
About the Music
Liszt's famous Liebestraum, No. 3 is a nostalgic nocturne based on his song 'Oh, love, as long as you can love!', clinging to a love that has already become a memory. In his transcription of Wagner's Liebestod, the climax of Tristan and Isolde, Liszt adapts this central statement of the transformative power of love with a reverent faithfulness. The next two are inescapably paired: Liebesleid and Liebesfreud, love's sorrow and love's joy. Rachmaninov's works are pianistic reinventions of Kreisler's dances: playful, daunting and dramatic. Roques takes us in the opposite direction, adapting Debussy's dream-like waltz La plus que lente, for the violin. In these sweet, autumnal meanderings, Debussy is at his most winning. But, as he wrote, "sometimes my days are as dusky, dark, and mute as those of a hero from Edgar Allan Poe and my soul is as romantic as a Chopin Ballade." His Sonata for Cello and Piano has something of both these antecedents; in it, Debussy fights the encroaching silence and wins. The gentle fall of Sing not, o lovely one/, to me, from Rachmaninov's first collection of songs, brings back the memory of "that other life and distant shore", which not even present love can suppress. Massenet's Élégie finds the singer recalling "sweet springtimes past," her song overflowing, its emotions too great to be contained by one instrument. André Previn's Vocalise, in which aria and obbligato seem to bid each other a long farewell, is sparser than its model, Rachmaninov, but all the more haunting. Shostakovich's 7 Romances on Poems by Alexander Blok is his call "to brave the darkness and the rain" and find refuge, even salvation, in the beauty of music: "oh, how much music God has, what sounds exist in the world!" This musical monument to the human voice is his ultimate statement of survival in dark times.
Program
Liszt
: Liebestraum No. 3, S.541 (Love's Dream)
Wagner/Liszt:
Liebestod (Love's Death, from Tristan & Isolde)
Kreisler/Rachmaninov:
Liebesleid (Love's Sorrow)
Kreisler/Rachmaninov:
Liebesfreud (Love's Joy)
Chih-Long Hu, piano
Debussy: La plus que lente, L 121

Leonid Yanovskiy, violin
Irina Nuzova, piano

Debussy: Sonata for Cello and Piano

Misha Quint, cello
Irina Nuzova, piano

Rachmaninoff: Ne poi krasavitsa, pri mne for Soprano, Violin, and Piano from 6 Romances, Op.4

Anya Fidelia, soprano
Leonid Yanovskiy, violin
Irina Nuzova, piano

Massenet: Élégie for Soprano, Cello, and Piano
Andre Previn: Vocalise for Soprano, Cello, and Piano

Anya Fidelia, soprano
Misha Quint, cello
Irina Nuzova, piano

Shostakovich: 7 Romances on Poems by Alexander Blok for Soprano, Violin, Cello, and Piano, Op.127

Anya Fidelia, soprano
Leonid Yanovskiy, violin
Misha Quint, cello
Irina Nuzova, piano


PERFORMER BIOGRAPHIES

Cellist
MISHA QUINT
made his orchestral debut at the age of 13 after winning first place in the Boccherini Competition in St. Petersburg. Some of the celebrated orchestras that Quint has performed with include: Orquestra Sinfônica do Teatro Nacional do Brasilia, The Metropolitan Symphony, New York Chamber Orchestra, The National Irish Symphony, Brooklyn Philharmonic, London Soloists Chamber Orchestra at Queen Elizabeth Hall, The Moscow State Symphony Orchestra, The Leningrad Philharmonic Orchestra, Leningrad State Orchestra, Orchestra of Classical and Contemporary Music and the Symphony Orchestras of Latvia and Georgia. Quint has worked with an equally illustrious group of conductors, including Maxim Shostakovich, Paul Lustig Dunkel, Colman Pearce, Sidney Harth, Ravil Martinov, Camilla Kolchinsky, Yaacov Bergman, Franz Anton Krager and Ira Levin, and premiered works the most outstanding composers of today including Sophie Goubadalina, Robert Sirota, Steven Gerber, Thomas Fortmann, Nathan Davis, and Alfred Schnittke. Quint is an active chamber musician and has performed with such artists as Nikolai Znaider, Bela Davidovich, Bruno Canino, Julian Rachlin, Jean-Bernard Pommier, Sherban Lupu, Boris Kushnir, and Mikhail Kopelman. Quint started founding music festivals in Europe in 1997 with the creation of The International Cello Festival in Blonay, Switzerland, followed by the Soesterberg International Music Festival in Holland in 1998. Quint established the InterHarmony Music Festival in Geneva, Switzerland in 2000, and has since moved iterations of the festival to San Francisco, the Berkshires in Massachusettes, Schwarzwald, Germany, Sulzbach-Rosenberg, Germany, and Tuscany, Italy, as well as the InterHarmony Concert Series at Carnegie Hall in New York City. Quint is currently on the faculty of the Preparatory Division at Mannes College The New School for Music, in Manhattan. Quint's April 2016 release of Matryoshka Blues on the Blue Griffin Label won the Gold Global Music Award for New Release, Album, and Artist, and was featured in the Top 5 Spring Albums.
www.mishaquintcello.com

Soprano
ANYA FIDELIA
, scheduled for a New York City solo recital for the Fall 2016, versatile soprano Anya Fidelia made her professional debut at the Caramoor International Festival, where she numerously returned in subsequent seasons for opera productions and concerts. Anya received MM and PSD in Voice from Mannes Conservatory. Trained with renowned artists V.Chernov, J. Donemann, R. Scotto, R. Resnik, D.Soviero, W. Crutchfield, R. Resnik, P. McCaffrey and Nico Casel amongst others. The Lyric Opera of Chicago National Auditions and Santa Fe Opera Finalist, Anya is the winner of numerous competitions, awards and grants. Credits include Metropolitan Opera Guild appearances; the Carnegie Weill Recital Hall; Beacon Theater on Broadway; St. Petersburg Philharmonic; New Israeli Opera; Centro de Bellas Artes in PR; Moscow International Performing Arts Center; Kimmel Center. Repertory includes Mascagni's Santuzza; Tchaikovsky's Tatyana (Eugene Onegin); Poulenc's Blanche de la Force (The Dialogues of the Carmelites); Puccini's Mimi in La Boheme ; Georgetta (Il Tabarro), Suor Angelica, Butterfly and Tosca, amongst numerous other roles. Future seasons include expansion into dramatic Verdian and Verismo repertoire: Amelia (Un Ballo); Lady Macbeth (Macbeth); Elizabetta (Don Carlo); Maddalena (Andrea Chenier); La Gioconda (Ponchielli) and Lisa (Pique Dame). Recordings for film include soundtracks for Tribeca and Cannes award winning movies. Ms. Fidelia resides in NYC, where she holds a private voice studio, with husband Clark and two very musical children.

Winner of numerous international prizes and awards,
IRINA NUZOVA
has appeared in recital as a soloist and as a chamber musician in the United States, Europe, and South America. In Europe she performed at the Amici della Musica concert series in Florence, at the Hermitage State Museum in St. Petersburg, the Moscow Conservatory, Germany, Romania, and in the Netherlands, and In the USA at the Phillips Collection and National Gallery in Washington D.C., Weill Recital Hall in New York, Gardner Museum in Boston, Music in the Parks Series in St.Paul. Ms. Nuzova has appeared in live radio interviews and live broadcasts on Boston, Chicago, Philadelphia, Washington DC radio stations. A native of Moscow, Russia, Ms. Nuzova studied at the Gnessin Academy of Music under the guidance of Alexander Satz before moving to the United States. Ms. Nuzova holds degrees from the Manhattan School of Music and the Juilliard School. She earned her Doctorate of Musical Arts degree from the Hartt School of Music. A devoted teacher, Ms. Nuzova was invited to join the Piano Faculty at the Special School of America in 2013, where she teaches individual students and chamber music. Ms. Nuzova was part of a Duo-in –Residence at the Music Institute of Chicago with the cellist Wendy Warner. Ms. Nuzova gave Master Classes at the Schwob School of Music in Columbus, GA and at the Music Institute of Chicago and serves regularly as a jury panelist at piano competitions around the USA. During the summer, Ms. Nuzova teaches at the InterHarmony International Music Festival in Italy. She is a member of the Camerata Phillips, the chamber ensemble in residence of the Phillips Collection Gallery in Washington DC.

A native of Taiwan, pianist
CHIH-LONG HU's
performance career was launched after receiving honors including the Taipei National Concert Hall Arising Star, the Chi-Mei Artist Award, and prizes from the Mauro Monopoli International Piano Competition in Italy, the Concurs International De Piano D'Escaldes-Engordany in Andorra, the Takamatsu International Piano Competition in Japan, and San Jose International Piano Competition in California. An active performer, Hu performs extensively in Asia, Europe, and America appearing as a concerto soloist, recitalist, and chamber musician. His recent performance highlights include concerto performances of Rachamninov's Paganini Rhapsody, Prokofiev's Piano Concerto No. 3, Saint-Saëns Piano Concerto No. 2, solo and chamber recitals in China, Taiwan, Korea, Canada, and throughout the U.S. Hu's performances have been broadcast in "Performance Today" through NPR stations across the country and televised in Taiwan, China and Japan. His CD albums "Formosa Caprices", "Complete Rachmaninov Etudes-Tableaux", and "Trifecta Trio" have received critical acclaim. His recording of Bach Goldberg Variations will be released soon. Named "Teacher of the Year" by the Tennessee Music Teachers Association, Dr. Hu is frequently invited to give lectures and master classes, as well as to judge international and national competitions. Hu is the Artistic Director of St. Andrews Piano Academy and Festival International (New Brunswick), as well as the New York International Piano Festival. Hu holds a Doctorate of Musical Arts in piano performance from the University of Michigan, a Master's degree from Taipei National University of the Arts, and a Bachelor's degree in civil engineering from National Taiwan University. His piano teachers include Arthur Greene, Hung-Kuan Chen, and Tai-Cheng Chen. Dr. Hu has served on the faculty at East Tennessee State University, and was recently appointed as Sandra G. Powell Endowed Professor of Piano at The University of Tennessee starting in fall 2016.

Russian born violinist, violist and conductor,
LEONID YANOVSKIY
, is the Professor and Director of Strings and Orchestra at the University of West Florida, Pensacola. He is the concertmaster and frequent guest soloist with the Pensacola Symphony and Northwest Florida Symphony Orchestras, Principal Violinist with the Washington Square Music Festival, NYC, and Artist Faculty at the InterHarmony International Music Festival. Dr. Yanovskiy studied at the Moscow Gnessin Academy of Music, Russia; Rutgers University, NJ; and Fontenbleau Conservatoire Americaine, France. Among his teachers were Arnold Steinhardt and Michael Tree of the Guarneri Quartet, Olivier Charlier of the Paris Conservatory, and Valentin Berlinsky of the Borodin Quartet, Yanovskiy taught violin and chamber music at the Moscow Gnessin College and Academy of Music. He has performed solo and chamber music recitals throughout the United States, Brazil, Denmark, France, Germany, Israel, Korea, and Russia. His appearances as a soloist - including at the Rachmaninov Hall of the Tchaikovsky Conservatory, Moscow, and the Weill Recital Hall of Carnegie Hall, NY – attracted large audiences and received positive reviews in the press and social media. As a violinist with the Orchestra of St. Luke's and the American Symphony under the baton of Abbado, Botstein, Mackerras, Menuhin, Norrington, Previn, Shaw, Zinman, and others, Yanovskiy appeared on the stages of the Carnegie Hall, Avery Fisher Hall, Alice Tully Hall, Chicago Orchestra Hall, Boston Symphony Hall, New Haven's Woolsey Hall, and at the Metropolitan Opera and Kennedy Center. Yanovskiy was also the Principal Violinist with the Moscow Chamber Orchestra Northern Crown, Chamber Orchestra Philadelphia Virtuosi, and Goliard Chamber Ensemble, NYC. At the UWF Department of Music, Dr. Yanovskiy is the founder and director of one of Florida's leading undergraduate string programs. His violin and viola students are winners of national, regional and state music competitions; they successfully enter graduate programs at America's leading music institutions: the Juilliard School, Cleveland Institute of Music, University of North Texas, University of Maryland, and Florida State University, among others.