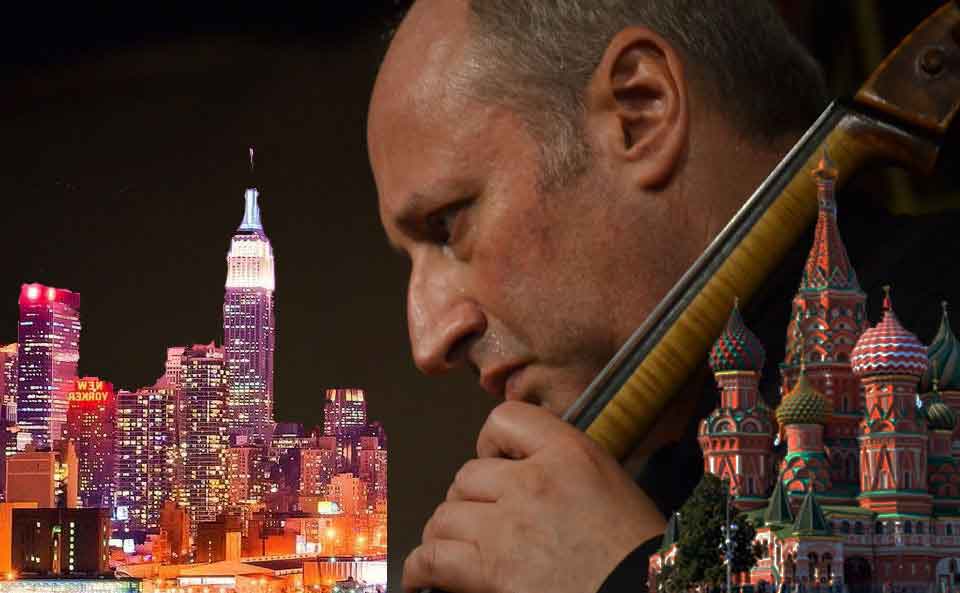 From Russia with Love, 25 Years Later
World Premiere of Thomas Fortmann's "Sonata for Quintcello" Helps Celebrate Cellist Misha Quint's 25th Year in the United States
Quarter century celebration also features release of Quint's Matryoshka Blues on the Blue Griffin label
Performance takes place at the Weill Recital Hall, January 24 at 8pm
When Misha Quint was a young cellist studying at the Leningrad State Conservatory of Music, he had little idea that one day he would hop a plane, though without his beloved Derazay cello (the government demanded he leave it in Russia) and with barely enough change to jingle in his pocket. He was headed for Vienna with the ultimate goal of performing in New York City.
Now, 25 years later, InterHarmony International Music Festival, which Quint founded 13 years ago, will present the second of three concerts at Weill Recital Hall on January 24 at 8PM. Quint will be accompanied by his long-time colleague, pianist Svetlana Gorokhovich. The quarter century celebration also includes the release of "Matryoshka Blues" on the Blue Griffin label in conjunction with the Weill Recital Hall concert.
Among the January 24 concert highlights is the world premiere of Thomas Fortmann's "Sonata for Quintcello," a 13-minute witty and challenging musical tour de force. In one section Quint is required to invert the bow beneath the A and C strings in order to play them simultaneously. The result is a wickedly singular sound. The title, besides offering a nod to the name of the cellist, "Quint," and meaning fifth in Italian, also refers to the frequently occurring interval in this playful sonata.
The 19th century French court composer François Francoeur will be represented by his "Sonata in E Major," at times a demonically fast work demanding the full virtuosic command of its two performers.
Written when the composer was only 19 years old, Richard Strauss's "Sonata in F Major for cello and piano" brims with the lush beauty of late-Romantic music. Its opening is a tribute to pure sonata form, transforming into a serenade that is weighted with dirge-like gloom, tinged with wistful sadness. Then, following pure classic form, it concludes with the light joy of a Scherzo.
Schubert will be represented with a transcription for piano and cello of his "Impromptu No. 3 in G Major, D899." Schubert's serenade is a classic example of the composer's beautiful lyricism and gift for long melodic lines.
The concert will also include two short works by Igor Stravinsky, "Parasha's Aria" from the composer's comic one-act 1922 opera, "Marva," and his "Blue Bird Duet," an excerpt from Tchaikovsky's "Sleeping Beauty," which Stravinsky transcribed for chamber orchestra. Quint plays a cello version that was once performed as an encore by Mstislav Rostropovich, based on Stravinsky's chamber orchestra piece.
Background Information
Swiss born and now living in Italy, THOMAS FORTMANN began his musical career as a song writer, writing his first hit at 16 followed by over 100 titles released in more than 27 countries and sung by rock stars throughout Europe. Abandoning his pop music career at 26 to commit himself to "serious" studies in composition and instrumentation, Fortmann went on to receive fellowships and commissions from major European houses as well as from the University of Houston in the United States. Reflecting his attitude toward music and also his own rigorously constructed compositions, Fortmann says: "Music that is purely mathematical is non-sensual. But music without mathematics is nonsense."
Cellist MISHA QUINT made his orchestral debut at the age of 13 after winning first place in the Boccherini Competition in St. Petersburg. Some of the celebrated orchestras that Quint has performed with include: Orquestra Sinfônica do Teatro Nacional do Brasilia, The Metropolitan Symphony, New York Chamber Orchestra, The National Irish Symphony, Brooklyn Philharmonic, London Soloists Chamber Orchestra at Queen Elizabeth Hall, The Moscow State Symphony Orchestra, The Leningrad Philharmonic Orchestra, Leningrad State Orchestra, Orchestra of Classical and Contemporary Music and the Symphony Orchestras of Latvia and Georgia. Quint has worked with an equally illustrious group of conductors, including Maxim Shostakovich, Paul Lustig Dunkel, Colman Pearce, Sidney Harth, Ravil Martinov, Camilla Kolchinsky, Yaacov Bergman, Franz Anton Krager and Ira Levin, and premiered works the most outstanding composers of today including Sophie Goubadalina, Robert Sirota, Steven Gerber, Thomas Fortmann, Nathan Davis, and Alfred Schnitke. Quint is an active chamber musician and has performed with such artists as Nikolai Znaider, Bela Davidovich, Sherban Lupu, Andrzej Grabiec, Yuri Gandelsman, Boris Kushnir, andMikhail Kopelman. Quint started founding music festivals in Europe in 1997 with the creation of The International Cello Festival in Blonay, Switzerland, followed by the Soesterberg International Music Festival in Holland in 1998. Quint established the InterHarmony Music Festival in Geneva, Switzerland in 2000, and has since moved iterations of the festival to San Francisco, the Berkshires in Massachusettes, Schwarzwald, Germany, Sulzbach-Rosenberg, Germany, and Tuscany, Italy. Quint is currently on the faculty of the Preparatory Division at Mannes College The New School for Music, in Manhattan. www.mishaquintcello.com
SVETLANA GOROKHOVICH has performed in international music festivals in Holland, Germany, Italy and New York. She has worked with Misha Quint since 2005. Her latest performances include recitals in Zankel Hall, Weill Recital Hall and Ridotto Music Series. Gorokhovich received her music training in the Kazan State Conservatory and her Ph.D. from St. Petersburg State Conservatory, studying with distinguished professor Tatiana Kravchenko. She immigrated to the U.S. in 1989. Gorokhovich was the 1997 winner of the Bartok-Kabalevsky- Prokofiev International Piano Competition at Radford University and the 1999 IBLA international competition in Italy. Her solo recital at Carnegie Hall in 2000 was highly acclaimed by the New York Concert Review. Her most recent recording, "One Piano Four Hands," was released in 2012 by SMH Records. She toured world-wide with violinist Dmitri Berlinsky from 1991 –1996. Their recording, "Souvenir D'un Lieu Cher" (Helicon), released in 1997, received enthusiastic reviews. Gorokhovich is on the piano faculty of the Music Conservatory of Westchester in White Plains, New York.
Performers
Program
François Francoeur(1698 – 1787): Sonata for Cello and Piano

Richard Strauss (1864 – 1949): Sonata in F Major for cello and piano

INTERMISSION

Thomas Fortmann (b. 1951) Sonata for Quintcello (World Premiere)

Franz Schubert (1797-1828): Impromptu No. 3 in G Major, D899

Igor Stravinsky (1882 – 1971): The Fairy's Kiss - Pas de Deux: Adagio, Variation & Coda

Igor Stravinsky (1882 – 1971): Russian Song, "Parasha's Aria"
Photo: David Milkis
Artwork: Caitlin McConnell