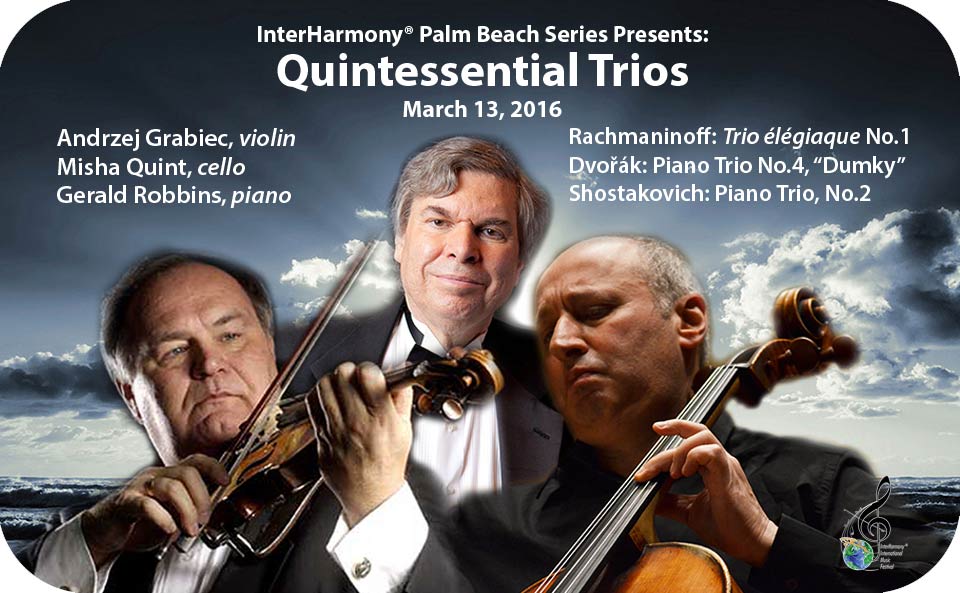 Graphic Design: Abby Gaudette
Quintessential Trios Takes Center Stage with Rachmaninoff, Dvořák, and Shostakovich at Palm Beaches Theatre on March 13 at 5PM
InterHarmony® International Music Festival presents the final concert in the InterHarmony Palm Beach Series.
InterHarmony Palm Beach Series: Quintessential Trios
InterHarmony® International Music Festival presents a chamber music concert featuring pearls of the piano trio repertoire with Festival Founder Misha Quint (cello), and IIMF guest artists Andrzej Grabiec (violin) and Gerald Robbins (piano) on Sunday, March 13th at 5PM. The program is an illustration of the romantic tradition of the Piano Trio, performed by soloists, that brings to mind the famed Heifetz – Rubinstein – Piatigorky Trio. This is the final concert in the first season of the InterHarmony Palm Beach Series. For tickets call the box office at 561-362-0003 or order online with credit card at palmbeachestheatre.org.
About InterHarmony® International Music Festival
In existence for almost two decades, InterHarmony has become one of the important festivals worldwide, and the fastest growing. Anchored in Italy and Sulzbach-Rosenberg, Bavaria, Germany each summer, the festival boasts a new Outstanding Guest Artist Series that features stars such as Alfred Brendel and Vadim Repin. Now, fresh from a run at the InterHarmony Concert Series at Carnegie Hall in New York, IIMF's founder and cellist Misha Quint brings some of the best of these programs with him to Palm Beach. For more information about InterHarmony® International Music Festival, please visit www.interharmony.com.
The Music
Rachmaninoff's early Trio élégiaque No.1 in g minor, is a study in barely restrained yearning. The piano's rising four-note theme swims on a sea of thirty-second notes whipped up by the cello and violin. The mood shifts fluidly between melancholy desperation and wistful nostalgia, trapped in a cycle of longing, returning again and again to those four bittersweet notes, like a prayer.
Dvořák's "Dumky" trio (Piano Trio No.4 in e minor, Op.90) is a compact, but unforgettable musical odyssey. In this freely structured collection of six "dumky," Ukrainian ballads and laments, the cello, violin and piano sing the songs of a small people torn between great empires. This dark, Bohemian fantasy invites the listener deep into a forest of gnarled melodies, where sudden clearings open and mad dances whirl.
Shostakovich's Piano Trio, No.2 in e minor, Op.67 strikes a tragic tone. The year was 1944, the composer's good friend Ivan Sollertinsky had died and the country was nearing the end of hard war. Here, after the public bombast of his Leningrad symphony, was a private expression of doubt: anxiety for the future and sorrow for the past. Its premiere made a devastating impression – the audience wept openly and demanded encores. It was immediately banned.
PERFORMER BIOGRAPHIES

Cellist
MISHA QUINT
made his orchestral debut at the age of 13 after winning first place in the Boccherini Competition in St. Petersburg. Some of the celebrated orchestras that Quint has performed with include: Orquestra Sinfônica do Teatro Nacional do Brasilia, The Metropolitan Symphony, New York Chamber Orchestra, The National Irish Symphony, Brooklyn Philharmonic, London Soloists Chamber Orchestra at Queen Elizabeth Hall, The Moscow State Symphony Orchestra, The Leningrad Philharmonic Orchestra, Leningrad State Orchestra, Orchestra of Classical and Contemporary Music and the Symphony Orchestras of Latvia and Georgia. Quint has worked with an equally illustrious group of conductors, including Maxim Shostakovich, Paul Lustig Dunkel, Colman Pearce, Sidney Harth, Ravil Martinov, Camilla Kolchinsky, Yaacov Bergman, Franz Anton Krager and Ira Levin, and premiered works the most outstanding composers of today including Sophie Goubadalina, Robert Sirota, Steven Gerber, Thomas Fortmann, Nathan Davis, and Alfred Schnitke. Quint is an active chamber musician and has performed with such artists as Nikolai Znaider, Bela Davidovich, Bruno Canino, Sherban Lupu, Andrzej Grabiec, Boris Kushnir, and Mikhail Kopelman. Quint started founding music festivals in Europe in 1997 with the creation of The International Cello Festival in Blonay, Switzerland, followed by the Soesterberg International Music Festival in Holland in 1998. Quint established the InterHarmony Music Festival in Geneva, Switzerland in 2000, and has since moved iterations of the festival to San Francisco, The Berkshires in Massachusetts, Schwarzwald, Germany, Sulzbach-Rosenberg, Germany, and Tuscany, Italy, as well as the InterHarmony Concert Series at Carnegie Hall in New York City. Quint is currently on the faculty of the Preparatory Division at Mannes College The New School for Music, in Manhattan. Quint will release a new recording on the Blue Griffin Label called "Matryoshka Blues" in April 2016.
www.mishaquintcello.com

Violinist
ANDRZEJ GRABIEC
, prizewinner at the Fifth International Henryk Wieniawski Violin Competition in Poland (1967) and the International Jacques Thibaud Violin Competition in Paris, France (1969), made his debut with Opole Philharmonic Orchestra in Poland at age 14. He studied at the Szymanowski Academy of Music in Katowice, Poland, where he was later appointed Professor of Violin. He went on to become a soloist and concertmaster of the Great Symphony Orchestra of the Polish National Radio and Television and the leader of Capella per Musica da Camera. Grabiec became concertmaster at the Rochester Philhamonic, the Wichita Symphony Orchestra in Kansas, as well as Music Director of the Mozart Festival Chamber Orchestra. Grabiec became Professor of Violin at the Moores School of Music at the University of Houston in 1995. He performed with the Houston Symphony in 1999, and is a founder and Artistic Co-Director of the Virtuosi of Houston. Invited by Australia's government, Grabiec served as Artistic Director of an Olympic Arts Tour throughout Australia, New Zealand, and the South Pacific Islands, where he also performed as a violin soloist and conductor in 1999. In 2002 Grabiec performed the world premiere of Concerto for Violin and Orchestra, "Seren", by American composer Peter Lieuwen, and was its dedicee. Grabiec made his Chinese debut in 2008 in Guangzhou, China with master classes and a performance of Saint-Saens Violin Concerto with the Xinghai Conservatory Symphony Orchestra. He has performed under conductors such as Pierre Boulez, Erich Leinsdorf, Krzysztof Penderecki, Witold Lutoslawski, Kazimierz Kord, Mark Elder, and Erich Bergel and continues to teach and perform at a litany of music festivals around the world.
Pianist
GERALD ROBBINS
has distinguished himself internationally as a soloist having performed throughout the world in virtually every major music center including New York, London, Paris, Amsterdam, Bonn, Munich, Athens, Frankfurt, St. Petersburg, Belgrade, Tel Aviv, Jerusalem, Rio de Janeiro, and Tokyo. He has appeared with many major orchestras such as the Los Angeles Philharmonic, Los Angeles Chamber Orchestra, London Philharmonic, Royal Philharmonic, BBC Symphony, and its affiliates, London Mozart Players, the City of Birmingham Symphony Orchestra, and the Portland Chamber Orchestra, with such conductors as Zubin Mehta, Sir Neville Marriner, Edouard van Remoortel, Harry Blech, Okku Kamu, Jorge Mester, Lawrence Foster, Kenneth Klein, Kypros Markou, Yaacov Bergman, and Louis Fremaux. A champion of neglected romantic repertoire, Gerald Robbins has received critical acclaim for his solo recordings on the London-Decca, Genesis, Orion, MSR Classics, Bridge, and Black Box labels, among others. His world premiere Genesis recordings of Litolff and Reinecke concerti, performed in collaboration with the Monte Carlo Opera Orchestra conducted by Edouard van Remoortel, elicited such praise as "Gerald Robbins's technical prowess is phenomenal", "a keyboard voice of true eloquence", "a first class bravura performance." In addition to his solo activities, Mr. Robbins has distinguished himself as a chamber musician in collaboration with many eminent musicians such as violinists Nathan Milstein, Aaron Rosand, Pinchas Zukerman, Ruggiero Ricci, Mark Peskanov, Bronislaw Gimpel, Kyung-Wha Chung, Mayumi Fujikawa, Haroutune Bedelian, Glenn Dicterow, and cellists, Zara Nelsova, Joseph Schuster, Nathaniel Rosen, Stephen Kates, Frederick Zlotkin, James Kreger, and Richard Markson, among many others. A co-founder with Glenn Dicterow of the Lyric Piano Quartet, Mr. Robbins records and tours with this ensemble. He is also an accomplished conductor and co-founder with Kenneth Klein, of the Westside Symphony Orchestra of Los Angeles now known as the Beverly Hills Symphony. He was a co-founder of the London Concertante, an ensemble that specialized in 18th and 19th century concerto repertoire. He has appeared as guest artist, several times over the years in Bargemusic, a distinguished chamber music series in Brooklyn, and as a guest artist with members of the New York Philharmonic at Lincoln Center in their celebrated chamber music series. Mr. Robbins received many important awards throughout his career including a major prize at the Van Cliburn International Piano Competition. During his studies at the University of Southern California, where he received his Bachelors and Masters degrees, he assisted as pianist for the string master classes of Jascha Heifetz, William Primrose, and Gregor Piatigorsky. He is presently living in New York where he is an Artist-in-Residence with the Lyric Piano Quartet at Queens College CUNY, and is on the faculty at the CUNY Graduate Center. He is affiliated with the Hoff-Barthelson Music School in Scarsdale, NY, and is a member of the chamber music faculty at the Manhattan School of Music in New York City.
Program
Rachmaninoff: Trio élégiaque No.1 in g minor
Dvořák: Piano Trio No.4, Op.90 Dumky
Shostakovich: Piano Trio No.2

Andrzej Grabiec, violin
Misha Quint, cello
Gerald Robbins, piano