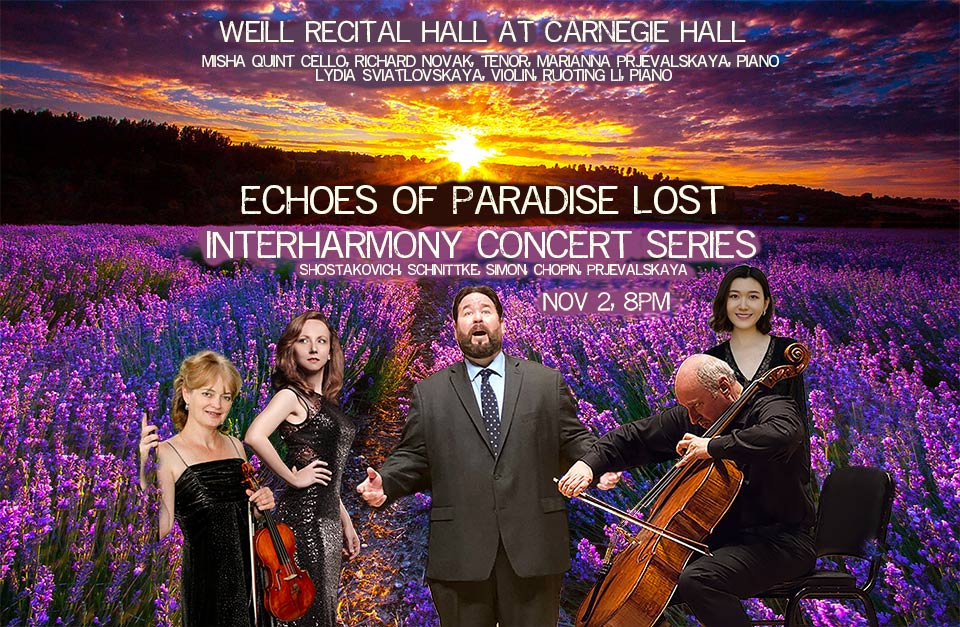 Graphic Design: Caitlin McConnell
InterHarmony Opens its Carnegie Hall Series with "Echoes of Paradise Lost" on Nov 2
InterHarmony International Music Festival opens the 6th season of the InterHarmony Concert Series at Carnegie Hall's Weill Recital Hall with Echoes of Paradise Lost on November 2 at 8PM.
Times change. The clock's hands are poised to make circles, but depth of feeling has its hands still with a concentration of intensity that cannot be affected by the heartbeat of the universe. Featuring works by Shostakovich, Schnittke, Chopin, Prjevalskaya, and a New York premiere of newly discovered songs by James Simon, "Echoes of Paradise Lost" evokes the rare condition when different epochs, genres and crucial dramatic moments of humanity symbiotically grow together from the same tree of sounds, passages, and chords.
The InterHarmony Concert Series, started by Music Director Misha Quint, showcases performers from the InterHarmony festivals that take place each summer in Italy and Germany. Tickets are $40 and can be purchased online www.carnegiehall.org or by calling CarnegieCharge at 212.247.7800.
Two contrasting works of Alfred Schnittke underscore the theme of the evening: Suite in the Old Style for Violin and Piano, where reflections of the Baroque are filled with a palette of old-school harmonies at times capricious, and Cello Sonata No.1, intoned with tragic, climactic passages, almost screams of the soul, as if glancing through a prism of the iconic 20th Century composer's creativity. Sonata mirrors Schnittke's own life, greatly affected by his experience of Soviet persecution. Cellist Misha Quint and pianist Marianna Prjevalskaya perform Cello Sonata, while Violinist Lydia Sviatlovskaya and pianist Ruoting Li perform Suite.
Chopin's Scherzo No.2, performed by Marianna Prjevalskaya, naturally brings beauty and finesse to the program. In Prjevalskaya's La Valse a La Ravel, one feels a transformation that echoes Ravel's impressionism.
After composer James Simon's death in a Nazi concentration camp, his works survived and were recently found. Richard Novak (tenor) and Ruoting Li (piano) will give the New York premiere of Simon's The Bell Tolls in the Ground and 5 Lieder.
Shostakovich released Piano Trio No. 2 in 1944. Trio commences with mysterious cello harmonics, then gradually ascends to a storm of devilish dances filled with Jewish melodic tonality in the third movement. Lydia Sviatlovskaya (violin), Misha Quint (cello), and Marianna Prjevalskaya (piano) perform this stellar work of chamber music.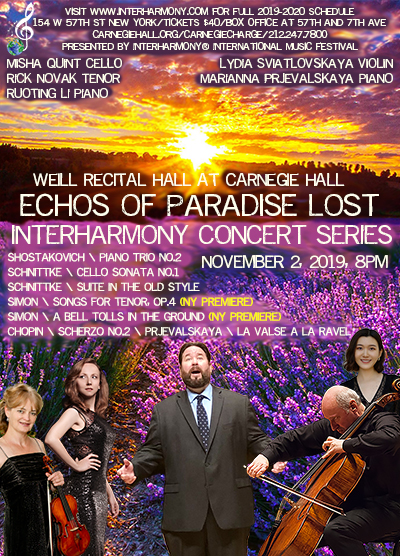 PERFORMER BIOGRAPHIES

Cellist
MISHA QUINT
, 2016 Gold Medal Global Music Award winner for his CD Matryoshka Blues, performed with such celebrated as orchestras as Orquestra Sinfônica do Teatro Nacional do Brasilia, New York Chamber Orchestra, National Irish Symphony, Brooklyn Philharmonic, London Soloists Chamber Orchestra at Queen Elizabeth Hall, Moscow State Symphony Orchestra, Leningrad Philharmonic Orchestra, and Euro Sinfonietta Wien. Quint has performed under the batons of Maxim Shostakovich, Paul Lustig Dunkel, Colman Pearce, Sidney Harth, Ravil Martinov, Yaacov Bergman, Franz Anton Krager and Ira Levin, and premiered works of outstanding composers of today: Sophie Goubadalina, Robert Sirota, Nathan Davis, and Alfred Schnittke. Quint is Founder and Music Director of InterHarmony® International Music Festival in Acqui Terme, Piedmont, Italy and Suzlbach-Rosenberg, Germany, and InterHarmony Concert Series at Carnegie Hall in New York City. Quint is on the faculty at Mannes College The New School for Music in Manhattan. Recent engagements include recitals and concerts with orchestras in Italy and Germany in collaboration with Nikolaj Szeps-Znaider, Guy Braunstein, Alexei Volodin, Christa Mayer, Christian Vasquez, and Dmitri Sitkovetsky
www.mishaquintcello.com

American Tenor
RICHARD NOVAK
has performed with Washington Concert Opera, Opera Carolina, San Antonio Opera, Alamo City Opera, Opera Piccola, Annapolis Opera, Chautauqua Opera, Des Moines Metro Opera, Wichita Grand Opera, The Living Opera, Wagner Society of Washington, San Antonio Symphony, San Antonio Chamber Choir, San Antonio Choral Society, Chautauqua Symphony, Prince William Symphony, the Monroe Symphony, the Conservatorio di Musica Agostino Steffani in Castelfranco Veneto (Italy), and the Institute of Culture in Culiacán and Mazatlán (Mexico). Among Novak's operatic credits are Rodolfo, Pinkerton, Alfredo, Don José, Nemorino, Ernesto, Werther, Eisenstein, Tamino, Lippo, and Roméo. Training programs include the Chautauqua Opera, Des Moines Metro Opera, Wichita Grand Opera, Wesley Balk Institute, and the Evelyn Lear/Thomas Stewart Emerging Singers. In 2005 and 2006, Novak won the Metropolitan Opera National Council Auditions (Tulsa District). He is also a former 1st Place winner of the Texoma NATS 'Singer of the Year.' Recent engagements include a lecture-recital for the Texoma Region of N.A.T.S (Liszt: In Love & Lust), the World-Premiere of Kevin Salfen's Birding Super Flumina Babylonis, Handel's 'Messiah' with the San Antonio Choral Society, Danielpour's An American Requiem at Stephen F. Austin State University, Missa Criolla by Ariel Ramirez with the San Antonio Choral Society. Dr. Novak holds a BM and MM in Vocal Performance from Stephen F. Austin State University, and the DMA in Vocal Performance from the University of North Texas. Dr. Novak is an Assistant Professor of Voice at Texas State University, where he teaches voice and vocal pedagogy.

MARIANNA PRJEVALSKAYA
has appeared with major orchestras such as the Cincinnati Symphony Orchestra, Louisiana Philharmonic Orchestra, National Lithuanian Symphony Orchestra, and collaborated with renowned conductors such as Ion Marin, Roberto Trevino, Carlos Prieto, David Danzmayr. As a recitalist, Marianna performed in venues such as the Mozarteum in Salzburg, Accademia Santa Cecilia in Rome, Teatro Goldoni of Florence, Minato Mirai Hall in Yokohama, Weill Hall in New York. Her debut at Weill Hall was praised by Frank Daykin as "one of the major piano recitals of the season" and "a stunning display of mature pianism". (New York Concert Review, New York). Spanish critic Santi Riu complimented Marianna as a "virtuoso, impetuous, passionate and mature pianist of great musicality" (Diario Segre, Spain.) Marianna won top prizes at the 2014 New Orleans International Piano Competition, the 2013 World Piano Competition in Cincinnati, the 2013 European Piano Competition in Normandy, the 2012 Panama, 2011 Jaén, 2010 Sendai, 2008 Jose Iturbi and 2007 Paderewski International Piano Competitions. Her first CD was released by Naxos in 2012; most recent album dedicated to Rachmaninoff was released in June 2016 by Fanfare Cincinnati and was praised by critics in the US and in Spain. Jaime Pantín writes in magazine Codalario that "her polyphonic transparency is astonishing, and her execution is of impeccable precision, clarity, virtuosity and beauty of sound."

LYDIA SVIATLOVSKAYA
, a native of Leningrad (now St.Petersburg), graduated from the Special Music School for Gifted Children in Leningrad and then obtained her Master's degree from the Moscow Conservatory. Among her teachers was world-renowned violinist Leonid Kogan. Her solo appearances with orchestras include The Moscow Orchestra of Chamber Music, USSR State Chamber Orchestra, Moscow Radio Symphony, Winnipeg Royal Ballet, Central City Opera Festival Orchestra, and in Colorado the Evergreen Chamber Orchestra, Mercury Ensemble Chamber Orchestra, Vail International Dance Festival, and Colorado Springs Philharmonic Orchestra. Currently Lydia is a Concertmaster of Colorado Ballet and she has a private Music Studio in Denver. Lydia regularly performs with pianist Olga Dashevskaya as Duo Classica. Colorado Public Radio frequently promotes the ensemble on air through a collection of recordings made at their studio. Lydia has given numerous Solo and Chamber Music Recitals in Europe and United States. In 2019 she joined the Interharmony International Music Festival in Italy as a teacher and performer.

Chinese pianist
RUOTING LI
is an eclectic artist who is eager to explore a wide range of musical styles and repertoire, both as a solo pianist and chamber musician. Praised as "a pianist and musician who is most satisfying", she has poetic qualities and an appealing, intensely musical performing style. Born in Hunan, she started to play piano at the age of 6 and was admitted to the Central Conservatory of Music Middle School in Beijing when she was 11. In 2014, Ms. Li came to the U.S., and was awarded a full scholarship to attend the Manhattan School of Music, where she earned her B.M. degree in May 2018. Currently pursuing a Master Degree in Piano Performance at MSM as a full scholarship recipient, Ms. Li has been involved in numerous outside activities, such as outreach concerts, studio producing, and new music recording. As a winner of the Lillian Fuchs Chamber Music Competition, Ms. Li was a collaborative pianist at the Eastern Music Festival in the summer of 2019, where she also served as orchestral pianist.
Program
Frederic Chopin (1810 – 1849): Scherzo No.2 in b-flat minor, Op.31
Marianna Prjevalskaya (b.1982):Valse a la Ravel

Marianna Prjevalskaya, piano

Alfred Schnittke (1994 – 1998): Suite in the Old Style for Violin and Piano

Lydia Sviatlovskaya, violin
Ruoting Li, piano

Alfred Schnittke (1934 – 1998): Sonata for Cello and Piano No.1

Misha Quint, cello
Marianna Prjevalskaya, piano

James Simon (1880 – 1944): Five Songs, Op. 4
James Simon (1880 – 1944): A Bell Tolls in the Ground

Richard Novak, tenor
Ruoting Li, piano

Dmitri Shostakovich (1906 – 1975): Piano Trio No.2 in e minor, Op.67

Lydia Sviatlovskaya, violin
Misha Quint, cello
Marianna Prjevalskaya, piano