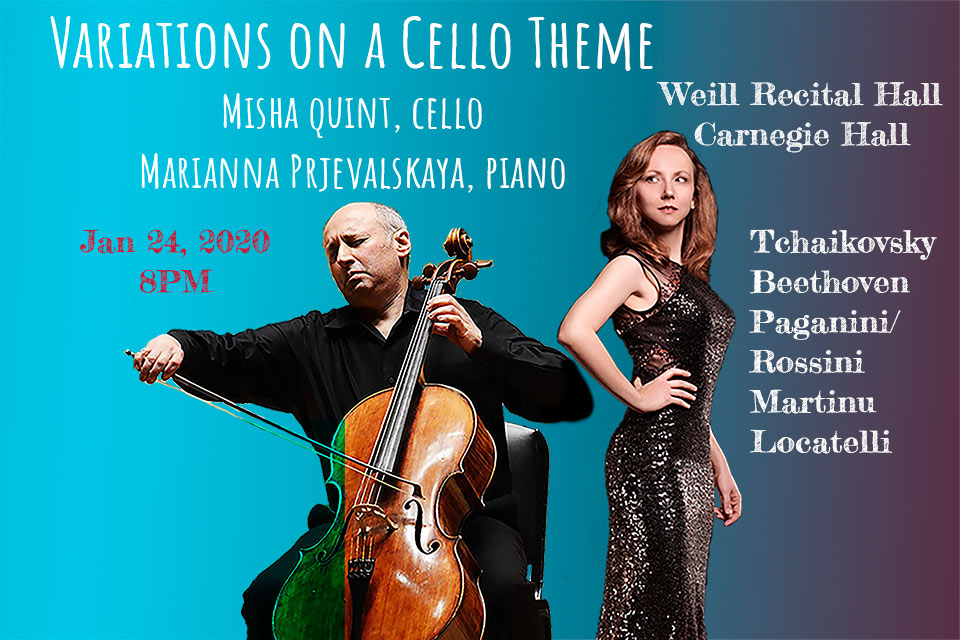 Graphic Design: Caitlin McConnell
Misha Quint Performs "Variations on a Cello Theme" at Carnegie Hall on Jan 24
InterHarmony® International Music Festival presents "Variations on a Cello Theme" with Russian born cellist Misha Quint and pianist Marianna Prjevalskaya as part of the InterHarmony Concert Series at the Weill Recital Hall at Carnegie Hall on January 24 at 8PM.
Like a symphony enriched with famous melodic delicacies and sparkling virtuosity, "Variations on a Cello Theme" offers New York's music lovers a rich, versatile program grasping the whole range of the cello playing art, perfectly reflecting the theme and variations musical form, gradually unraveling from Beethoven to Tchaikovsky, and eventually becoming a variation in itself. Tickets can be bought online at www.carnegiehall.org, or by calling CarnegieCharge 212-247-7800.
Each half of the concert opens with two sets of Variations by Beethoven on themes of Mozart's The Magic Flute, as part of Beethoven's 250th birthday celebration. The original form of the duet – with each singer presenting the tune separately, then both singing together – is preserved in the variations that follow. Both sets give the opportunity to showcase the best of their timber qualities and dialogue between instruments.
Locatelli's famous Sonata in D Major, rarely performed because of the presence of the virtuosic staccato bow stroke and originally written for violin, evinces themes with evolving fireworks of virtuosic roulades so known to variation form.
Martinů's fiery Variations on a Slovak Theme, with its open melodic lines and impressive rhythmical combinations, injects an eastern flavor and makes the anticipation of the second half of the concert even more intriguing. Martinů peppered indigenous Czech folk songs into this piece.
The presence of Paganini's Variations on a Theme of Moses by Rossini on One String, especially when it's a cello string, means that the moment has arrived - gloves off. With all the harmonics and passages encompassing the whole fingerboard, one could think that it is the best selection for the finale. Instead, Tchaikovsky's Variations on a Rococo Theme pours the breath and wrath of the ocean into the program. Though this iconic composition is mostly performed with orchestra, it was originally written for cello and piano, adding a more intimate element to Tchaikovsky's canvas and at the same time still possessing its monumental nature as the last showpiece of the exhibition of variations.
PERFORMER BIOGRAPHIES

Cellist
MISHA QUINT
, 2016 Gold Medal Global Music Award winner for his CD Matryoshka Blues, performed with such celebrated as orchestras as Orquestra Sinfônica do Teatro Nacional do Brasilia, New York Chamber Orchestra, National Irish Symphony, Brooklyn Philharmonic, London Soloists Chamber Orchestra at Queen Elizabeth Hall, Moscow State Symphony Orchestra, Leningrad Philharmonic Orchestra, and Euro Sinfonietta Wien. Quint has performed under the batons of Maxim Shostakovich, Paul Lustig Dunkel, Colman Pearce, Sidney Harth, Ravil Martinov, Yaacov Bergman, Franz Anton Krager and Ira Levin, and premiered works of outstanding composers of today: Sophie Goubadalina, Robert Sirota, Nathan Davis, and Alfred Schnittke. Quint is Founder and Music Director of InterHarmony® International Music Festival in Acqui Terme, Piedmont, Italy and Suzlbach-Rosenberg, Germany, and InterHarmony Concert Series at Carnegie Hall in New York City. Quint is on the faculty at Mannes College The New School for Music in Manhattan. Recent engagements include recitals and concerts with orchestras in Italy and Germany in collaboration with Nikolaj Szeps-Znaider, Guy Braunstein, Alexei Volodin, Christa Mayer, Christian Vasquez, and Dmitri Sitkovetsky
www.mishaquintcello.com

MARIANNA PRJEVALSKAYA
has appeared with major orchestras such as the Cincinnati Symphony Orchestra, Louisiana Philharmonic Orchestra, National Lithuanian Symphony Orchestra, and collaborated with renowned conductors such as Ion Marin, Roberto Trevino, Carlos Prieto, David Danzmayr. As a recitalist, Marianna performed in venues such as the Mozarteum in Salzburg, Accademia Santa Cecilia in Rome, Teatro Goldoni of Florence, Minato Mirai Hall in Yokohama, Weill Hall in New York. Her debut at Weill Hall was praised by Frank Daykin as "one of the major piano recitals of the season" and "a stunning display of mature pianism". (New York Concert Review, New York). Spanish critic Santi Riu complimented Marianna as a "virtuoso, impetuous, passionate and mature pianist of great musicality" (Diario Segre, Spain.) Marianna won top prizes at the 2014 New Orleans International Piano Competition, the 2013 World Piano Competition in Cincinnati, the 2013 European Piano Competition in Normandy, the 2012 Panama, 2011 Jaén, 2010 Sendai, 2008 Jose Iturbi and 2007 Paderewski International Piano Competitions. Her first CD was released by Naxos in 2012; most recent album dedicated to Rachmaninoff was released in June 2016 by Fanfare Cincinnati and was praised by critics in the US and in Spain. Jaime Pantín writes in magazine Codalario that "her polyphonic transparency is astonishing, and her execution is of impeccable precision, clarity, virtuosity and beauty of sound."
Program
Beethoven: 7 Variations on In men who know the feeling of love from Mozart's The Magic Flute
Locatelli: Sonata in D Major for Cello and Piano, Op.6
Martinu: Variations on a Slovak Theme
Beethoven: 12 Variations from Mozart's The Magic Flute, Papageno's Aria
Paganini/Rossini: Variations on a Theme on One String by Rossini, Moses
Tchaikovsky: Variations on a Rococo Theme for Cello and Piano

Misha Quint, cello
Marianna Prjevalskaya, piano