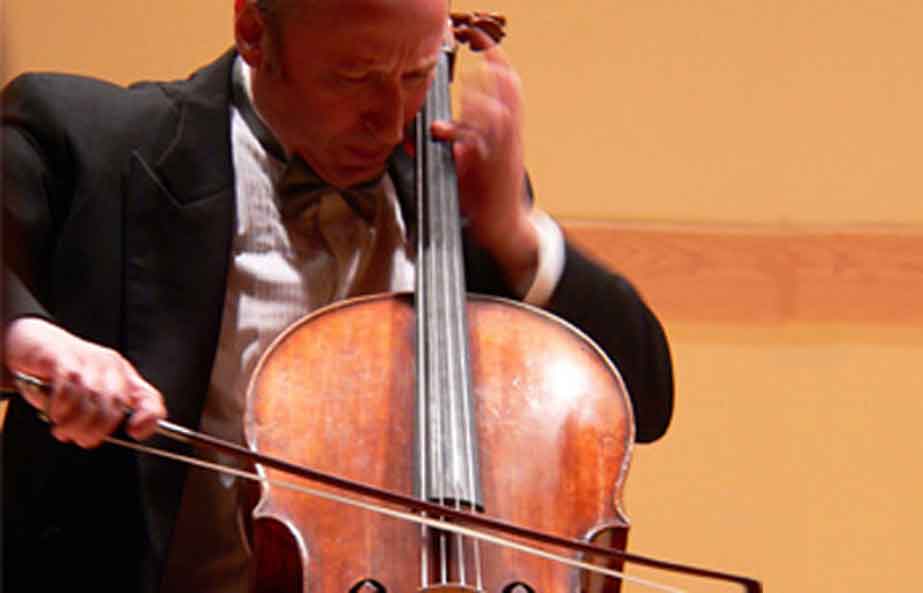 Russian Cellist Misha Quint at Carnegie Hall - January 25, 2012
On Tuesday, January 25th at 8pm, the InterHarmony International Music Festival will present internationally-renowned, Russian-born cellist Misha Quint, in a recital with pianist Svetlana Gorokhovich. The eclectic program will feature a wide array of styles ranging from music by New York's Robert Sirota and contemporary icon Krzysztof Penderecki, to Schubert, Tchaikovsky and Paganini's 24th Caprice performed on the cello. The complete program is as follows:
Performers
Misha Quint, Cello
Svetlana Gorokhovich, Piano

Program
Jean-Baptiste Bréval (1753 - 1823): Sonata in G Major for Cello and Piano

Robert Sirota (b.1949): Sonata for Cello and Piano

Niccolò Paganini (1782 - 1840): Caprice No.24 for solo violin

Franz Schubert (1797 - 1828): "Arpeggione" Sonata, D.821

Krzysztof Penderecki (b.1933): Per Slava

P.I. Tchaikovsky (1840 – 1893): Pezzo Capriccioso for Cello and Piano
Artist Bios
Cellist MISHA QUINT made his orchestral debut at the age of 13 after winning first place in the Boccherini Competition in St. Petersburg. Some of the celebrated orchestras that Quint has performed with include: Orquestra Sinfônica do Teatro Nacional do Brasilia, The Metropolitan Symphony, New York Chamber Orchestra, The National Irish Symphony, Brooklyn Philharmonic, London Soloists Chamber Orchestra at Queen Elizabeth Hall, The Moscow State Symphony Orchestra, The Leningrad Philharmonic Orchestra, Leningrad State Orchestra, Orchestra of Classical and Contemporary Music and the Symphony Orchestras of Latvia and Georgia. Quint has worked with an equally illustrious group of conductors, including Maxim Shostakovich, Paul Lustig Dunkel, Colman Pearce, Sidney Harth, Ravil Martinov, Camilla Kolchinsky, Yaacov Bergman, Franz Anton Krager and Ira Levin, and premiered works the most outstanding composers of today including Sophie Goubadalina, Robert Sirota, Steven Gerber, Thomas Fortmann, Nathan Davis, and Alfred Schnitke. Quint is an active chamber musician and has performed with such artists as Nikolai Znaider, Bela Davidovich, Sherban Lupu, Andrzej Grabiec, Yuri Gandelsman, Boris Kushnir, and Mikhail Kopelman. Quint started founding music festivals in Europe in 1997 with the creation of The International Cello Festival in Blonay, Switzerland, followed by the Soesterberg International Music Festival in Holland in 1998. Quint established the InterHarmony Music Festival in Geneva, Switzerland in 2000, and has since moved iterations of the festival to San Francisco, the Berkshires in Massachusettes, Schwarzwald, Germany, Sulzbach-Rosenberg, Germany, and Tuscany, Italy. Quint is currently on the faculty of the Preparatory Division at Mannes College The New School for Music, in Manhattan.www.mishaquintcello.com
SVETLANA GOROKHOVICH has performed in international music festivals in Holland, Germany, Italy and New York. She has worked with Misha Quint since 2005. Her latest performances include recitals in Zankel Hall, Weill Recital Hall and Ridotto Music Series. Gorokhovich received her music training in the Kazan State Conservatory and her Ph.D. from St. Petersburg State Conservatory, studying with distinguished professor Tatiana Kravchenko. She immigrated to the U.S. in 1989. Gorokhovich was the 1997 winner of the Bartok-Kabalevsky- Prokofiev International Piano Competition at Radford University and the 1999 IBLA international competition in Italy. Her solo recital at Carnegie Hall in 2000 was highly acclaimed by the New York Concert Review. Her most recent recording, "One Piano Four Hands," was released in 2012 by SMH Records. She toured world-wide with violinist Dmitri Berlinsky from 1991 –1996. Their recording, "Souvenir D'un Lieu Cher" (Helicon), released in 1997, received enthusiastic reviews. Gorokhovich is on the piano faculty of the Music Conservatory of Westchester in White Plains, New York.
Photo: Yuri Gorokhovich