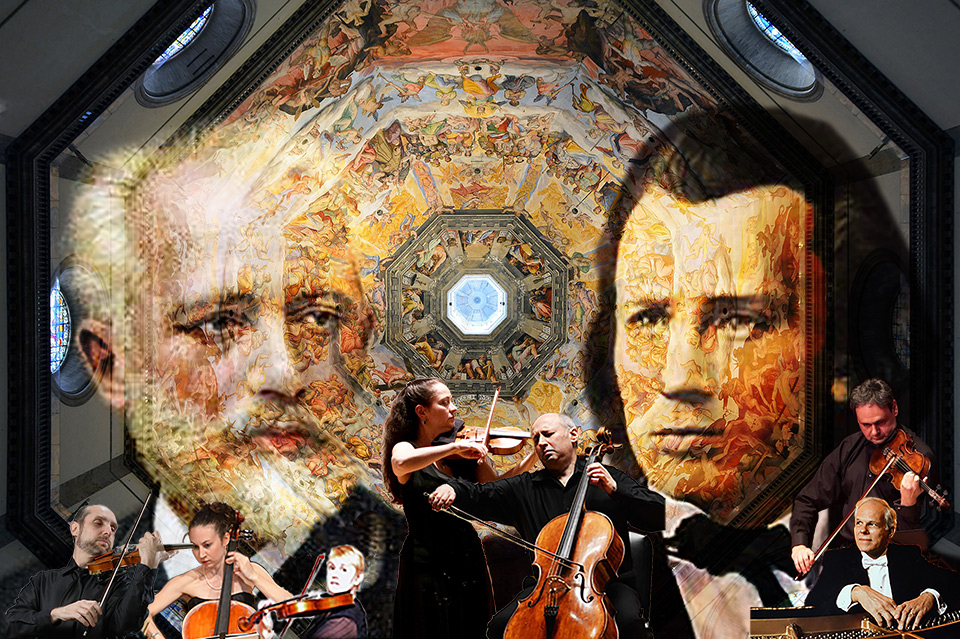 Graphic Design: Caitlin McConnell
Souvenir d'InterHarmony at The Modern: InterHarmony® Concert Series Explores Radiant Contrasts and Complements of Tchaikovsky and Brahms on March 24 at 2PM
At the Modern Art Museum of Fort Worth, Texas, InterHarmony® will present a rare opportunity to compare two titans of the Romantic period through their most beloved chamber works superlatively performed by a roster of internationally acclaimed musicians. On Saturday, March 24 at 2PM Brahms' 1st Piano Trio in B-major will share the stage with Tchaikovsky's String Sextet, Souvenir de Florence. Tickets are $35 for Adults, $30 for Seniors, and can be bought online starting in January, or 2 hours before the concert at The Modern Museum of Art.
There are famous rivalries and jealousies in world of art, da Vinci and Michelangelo, Gaugin and Van Gogh that cost him his ear; Pollock and de Kooning's was more about a war of the critics that championed them. About Brahms and Tchaikovsky, perhaps their misunderstanding of each other's aesthetic is like the arguments between Ingres and Delacroix, about classicism versus unbridled Romanticism. More information can be found at www.interharmony.com
Though the men shared the same birthdate, May 7th, besides a love of drink, they shared not a regard for each other's music. Brahms once infamously fell asleep during a rehearsal of the younger composer's 5th Symphony, and the aristocratically elegant Tchaikovsky was scabrous in his expression of disdain to Brahms.
"What an ungifted swine! It angers me that this conceited mediocrity is regarded as a genius." "Herr Brahms! I consider you to be a very untalented person, full of pretensions but utterly devoid of creative inspiration." ~ Tchaikovsky's Diary Entry from 1886
A contemporary scribe wrote, "Tchaikovsky's music sounds better than it is; Brahms' music is better than it sounds."
Decide for yourself!
About the Music
Both works are in four movements, and in classical forms. The Brahms Trio was written when the composer was twenty, a work driven by the passions and ardors of a young man, a work that ending darkly in the minor expresses a pessimism of Schopenhauer. It is spiritual. The performers will be Olga Kaler (violin), Misha Quint (cello) and John Owings (piano).
Tchaikovsky's Souvenir de Florence was written when the composer was fifty. Its music is torrid, and graceful. It is dramatic opera; it is ballet; it is flesh-and-blood, performed by Olga Kaler and Leonid Yanovskiy (violins), Misha Galaganov and Inga Kroll (violas) and Misha Quint and Caitlin McConnell (cellos).
From this afternoon you will take away two unforgettable souvenirs to cherish.
Program
Brahms: Piano Trio No.1 in B Major, Op.8

Tchaikovsky: Souvenir de Florence String Sextet, Op.70


PERFORMER BIOGRAPHIES

Cellist
MISHA QUINT
, 2016 Gold Medal Global Music Award winner for his CD Matryoshka Blues, performed with such celebrated as orchestras as Orquestra Sinfônica do Teatro Nacional do Brasilia, New York Chamber Orchestra, National Irish Symphony, Brooklyn Philharmonic, London Soloists Chamber Orchestra at Queen Elizabeth Hall, Moscow State Symphony Orchestra, Leningrad Philharmonic Orchestra, and Euro Sinfonietta Wien. Quint has performed under the batons of Maxim Shostakovich, Paul Lustig Dunkel, Colman Pearce, Sidney Harth, Ravil Martinov, Yaacov Bergman, Franz Anton Krager and Ira Levin, and premiered works of outstanding composers of today: Sophie Goubadalina, Robert Sirota, Nathan Davis, and Alfred Schnittke. Quint is Founder and Music Director of InterHarmony® International Music Festival in Acqui Terme, Piedmonz, Italy and Suzlbach-Rosenberg, Germany, and InterHarmony Concert Series at Carnegie Hall in New York City. Quint is on the faculty at Mannes College The New School for Music in Manhattan. 2017 Engagements include concerts in Italy, Germany, and Austria with Vadim Repin, Shlomo Mintz, Nikolaj Znaider, Bruno Canino, and Antonio Di Cristofano.
www.mishaquintcello.com

Praised for his exciting pianism and sensitive artistry, pianist
JOHN OWINGS
versatile career has ranged from solo and chamber music recitals to concerto appearances in major cities in the United States, Latin America, Europe, and Asia. His critically acclaimed CD recordings include piano music by Samuel Barber, Aaron Copland, Elliott Carter, Robert Casadesus, and Julius Reubke, as well as chamber music by Eric Ewazen, Richard Lavenda, Quincy Porter, and Elena Sokolowski. A native of San Antonio, Mr. Owings received his formal training at the University of Texas, The Royal College of Music in London, and The Juilliard School, where his teachers were Rosina Lhevinne and Martin Canin. His other teachers have included Dalies Frantz, Géza Anda, and Wilhelm Kempff. Gold medalist of the Robert Casadesus International Piano Competition in Cleveland, Mr. Owings also won the Vianna da Motta International Competition in Lisbon, the London Liszt Society Competition, and the Musical Arts Competition in Chicago. An experienced chamber music performer, Mr. Owings enjoys collaborating with many distinguished musicians. He is a member of Trio Con Brio – an ensemble that has commissioned and premiered new works by over a dozen living composers. A dedicated teacher, Mr. Owings' students have won national and international competitions and have successful careers as performers and educators. He has given master classes in the United States, England, Italy, Colombia, Peru, China, and Japan, and has been a guest artist at InterHarmony, MusicFest Perugia, Bucaramanga, the Round Top Festival, and PianoTexas International Academy and Festival. John Owings is Professor of Music and Chair of the Piano Division at Texas Christian University where he received the school's highest honor – the Chancellor's Award – in recognition of his performances of the 32 Beethoven Piano Sonatas. Six sonatas from these live performances have been issued on a CD recording.

Praised by critics for her "deep, soulful sound" and "powerful and enchanting renditions"
OLGA DUBOSSARSKAYA KALER
toured three continents as a soloist, chamber and orchestral musician. Currently a violin professor at DePaul University School of Music in Chicago, Kaler is chosen to join the distinguished violin faculty of the Cleveland Institute of Music in the fall of 2018. Kaler holds Doctoral degree from the Northwestern University. Her previous degrees are from the New England Conservatory of Boston, the Moscow State Conservatory and the Stolyarsky Special Music School in Odessa. Kaler was awarded the Special Prize at the Rodolfo Lipitzer International Competition in Italy, and the First Prizes at both the Northwestern and Thaviu-Isaacs Competitions. Currently a member of the World Orchestra for Peace under the direction of Valery Gergiev, the Chautauqua Symphony Orchestra of NY and the Chicago Ensemble, she appeared at InterHarmony International Music Festival in Italy, the Bowdoin International Music Festival in Brunswick, ME, and music festivals in Sarasota, FL, Skaneateles, NY, Montreal, CA, Steamboat Springs, CO, Athens, Greece, Villa Musica and Schleswig-Holstein Festivals in Germany. Kaler performed at the world's legendary concert venues, including Carnegie Hall, Moscow Conservatory Great Hall, Royal Albert Hall, and the Berlin Philharmonie. Described as "THE BOOK" and "the Bible for Violinists" by the leading US pedagogues, Dr. Kaler's Scale System for Reluctant Scale Enthusiasts met with enthusiastic reception from string players around the world. She is currently in preparing the violaand cello versions of the book. The Scale System is adapted into curriculums of conservatories around the world, along with Kaler's acclaimed method book, An Effective Method for Teaching and Studying Violin Technique.

Russian born violinist, violist and conductor,
LEONID YANOVSKIY
, is the Professor and Director of Strings and Orchestra at the University of West Florida, Pensacola. He is the concertmaster and frequent guest soloist with the Pensacola Symphony and Northwest Florida Symphony Orchestras, Principal Violinist with the Washington Square Music Festival, NYC, and Artist Faculty at the InterHarmony International Music Festival. Dr. Yanovskiy studied at the Moscow Gnessin Academy of Music, Russia; Rutgers University, NJ; and Fontenbleau Conservatoire Americaine, France. Among his teachers were Arnold Steinhardt and Michael Tree of the Guarneri Quartet, Olivier Charlier of the Paris Conservatory, and Valentin Berlinsky of the Borodin Quartet, Yanovskiy taught violin and chamber music at the Moscow Gnessin College and Academy of Music. He has performed solo and chamber music recitals throughout the United States, Brazil, Denmark, France, Germany, Israel, Korea, and Russia. His appearances as a soloist - including at the Rachmaninov Hall of the Tchaikovsky Conservatory, Moscow, and the Weill Recital Hall of Carnegie Hall, NY – attracted large audiences and received positive reviews in the press and social media. As a violinist with the Orchestra of St. Luke's and the American Symphony under the baton of Abbado, Botstein, Mackerras, Menuhin, Norrington, Previn, Shaw, Zinman, and others, Yanovskiy appeared on the stages of the Carnegie Hall, Avery Fisher Hall, Alice Tully Hall, Chicago Orchestra Hall, Boston Symphony Hall, New Haven's Woolsey Hall, and at the Metropolitan Opera and Kennedy Center. Yanovskiy was also the Principal Violinist with the Moscow Chamber Orchestra Northern Crown, Chamber Orchestra Philadelphia Virtuosi, and Goliard Chamber Ensemble, NYC. At the UWF Department of Music, Dr. Yanovskiy is the founder and director of one of Florida's leading undergraduate string programs. His violin and viola students are winners of national, regional and state music competitions; they successfully enter graduate programs at America's leading music institutions: the Juilliard School, Cleveland Institute of Music, University of North Texas, University of Maryland, and Florida State University, among others.

Dr.
MISHA GALAGANOV
, Professor of Viola and Chair of Strings at Texas Christian University (TCU), has performed as a soloist and chamber musician and given master classes in many prestigious venues in Russia, South Korea, China, Italy, Israel, Czech Republic, Mexico, Holland, Belgium, Germany, Austria, and the USA. Several composers from the USA, South America, Europe, and Israel wrote their pieces for Galaganov, who premiered them in such prestigious venues as Carnegie Hall and Shanghai Concert Hall among others. Galaganov and his colleagues from TCU formed Trio Con Brio ensemble 15 years ago and champion music for clarinet, viola, and piano. Misha Galaganov is director of three Chamber Music Roundup programs at TCU, coordinator of Oklahoma Summer Arts Institute student chamber music program, and founder of the chamber music program at Youth Orchestra of Greater Fort Worth. Many of his viola and violin students now have successful solo, teaching, and orchestra careers in the USA, Asia, Europe, and Latin America.

Violinist and Violist
INGA KROLL
is a native of Estonia, and graduate of the Estonian Music Academy and holds a Master of Music degree in Violin Performance from Rice University. Currently Inga is a classical and baroque freelance violinist in the Dallas/Ft. Worth area. She plays regularly with the Dallas Opera Orchestra, as Concertmaster with the Lyric Stage, in Irving, Texas and as second principal with the Orchestra of New Spain. Her diverse performance credits include orchestral work with pop musicians Crystal Gale, Reba McEntire, Diana Ross, classical artists Jose Correras, and Andrea Bocelli and with internationally acclaimed baroque artists Simon Standage and Ketil Haugsand. As a baroque violinist she has toured and performed in Russia, Finland, France, Mexico, and various states within the USA. She has studied with leading baroque performers Marilyn McDonald, Cynthia Roberts, Stanley Ritchie, Dana Maiben and Elizabeth Blumenstock. She is an adjunct faculty of violin and viola at Brookhaven College and University of Dallas. She also teaches privately from her home studio in Richardson, Texas.

Cellist
CAITLIN QUINN McCONNELL
winner of the Pennsylvania, Regional, and National divisions of the National Federation of Music Clubs Collegiate Competitions, captured the Gladys W. Fisher Violoncello Award, the PFMC Award, the Harvey Gaul Award recognizing artistic potential, Agnes Fowler/Marie V. Thiesen Award and the Lawrence Foster Violoncello Award and was featured in the NFMC special publication. Ms. McConnell was also winner of an Assistanceship to Duquesne University for their Masters program under the tutelage of New York Soloist Misha Quint, the Tuesday Musical Club Scholarship Competition in May of 2008, Opus I Music Club Scholarship in April of 2008, and a prizewinner in the Music Teacher's National Association Young Artists Competition in 2007. Critics wrote that she "shone on the cello with wholehearted devotion and rich expression", in a performance of the Dvorak Cello Concerto in Sulzbach-Rosenberg, Germany in 2011. Ms. McConnell has performed extensively in the United States, Holland, Italy, Romania, and Germany, and at such prestigious festivals as the Soesterberg International Music Festival in Holland, and InterHarmony International Music Festival in The Berkshires, MA, San Francisco, CA, Hinterzarten, Germany, and Sulzbach-Rosenberg, Germany, where she was featured on German television, and recently at Carnegie Hall in New York City. She recently performed Tchaikvosky's Souvenir de Florence with Nikolaj Znaider, Boris Kuschnir, Eugenia Petrova, Tomas Krejbich and Misha Quint in Germany in August 2017.