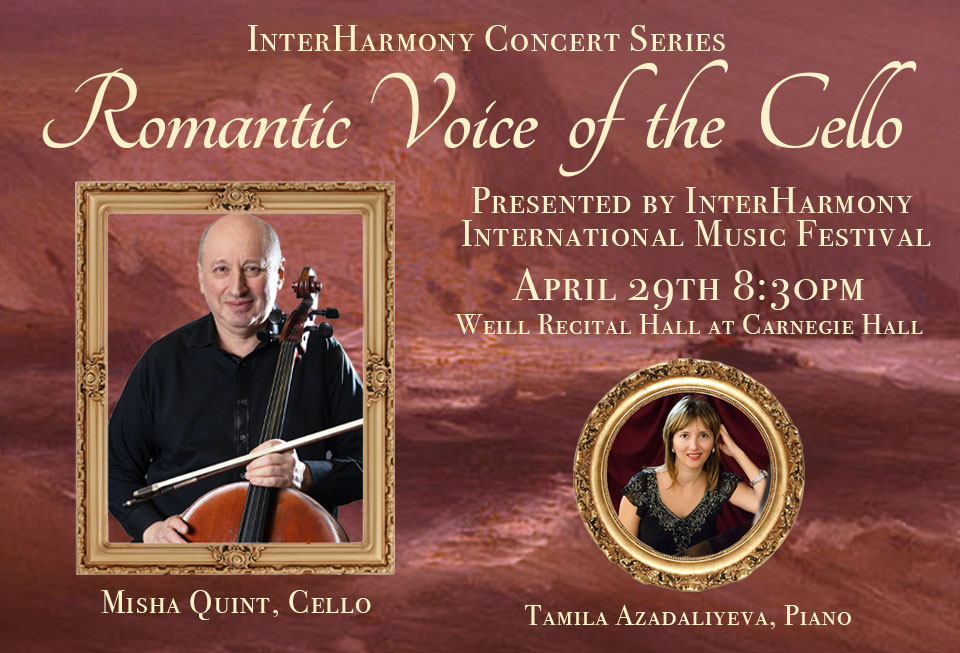 Romantic Voice of the Cello with Misha Quint and Tamila Azadaliyeva at Carnegie Hall on April 29th at 8pm
InterHarmony International Music Festival presents Romantic Voice of the Cello at Carnegie Hall as part of its 11th InterHarmony Concert Series on April 29th at 8PM.
Celebrated cellist Misha Quint and pianist Tamila Azadaliyeva are set to dazzle audiences at Carnegie Hall with the evening featuring a mélange of staples of cello repertoire from some of the greatest composers in a time-traveling tour of the 19th and 20th centuries. Romantic Voice of the Cello will commence with Beethoven's Cello Sonata No. 1, one of the first sonatas where the cello was a prominent voice, move to the romantic Arpeggione Sonata by the master of art song (lieder), Schubert. Then the program will swing into Shostakovich's melancholic, bellicose Cello Sonata. Rachmaninoff's wordless and hypnotic Vocalise follows, and finally cellist and composer, David Popper's, Dance of the Elves.
This not-to-be missed opportunity as Quint and Azadaliyeva share their artistry in this luminous night, can be experienced by purchasing tickets online at www.carnegiehall.org, or by calling Carnegie Charge 212-247-7800. More information can be found at www.interharmony.com.
About the Program
The concert will begin with Beethoven's Cello Sonata No. 1, one of the most beloved works in the cello repertoire. Composed in 1796, Sonata embodies Beethoven's innovative approach to the cello-piano duo, highlighting both instruments equally and creating a balanced, harmonious whole.
Next, Quint and Azadaliyeva will perform Schubert's Arpeggione Sonata, a work originally composed for a now-obsolete six-stringed instrument called the "Arpeggione". The Arpeggione Sonata has since become a staple of the cello repertoire, showcasing Schubert's mastery of the lyrical style, expressive harmonic depth, and scintillating virtuosity.
Moving into the 20th century, Shostakovich's Cello Sonata, a haunting and emotional work that reflects the composer's own struggles and the political climate of his time. Demanding an intellectual vigor and encapsulating qualities of both Shostakovich's early and late style, Sonata echoes elements of Beethoven's first cello sonata with its complex rhythms and dissonant harmonies that highlight the performers' technical skill and emotional depth.
Rachmaninoff's Vocalise follows. Originally composed as a wordless vocal aria, Vocalise has been arranged for a variety of instruments. Inspired by Rachmaninoff's love for his countryside home, Ivanovka. This piece demands the performer to express sensitivity through spontaneous waves of phrases, exemplifying soaring melodies and rich harmonies of Rachmaninoff's music.
The program will conclude with Popper's Dance of the Elves, a virtuosic showpiece that highlights the cello's range and technical capabilities. The piece features intricate runs and thrilling arpeggios with the rapid spiccato bow stroke throughout, making it a dazzling finale of the evening.
Romantic Voice of the Cello will demonstrate an ever-evolving cello repertoire that showcases its rare quality of sonority and tone intensity in different registers coupled with flying pianism, showcasing virtuosity in all possible forms.
PERFORMER BIOGRAPHIES

Russian-born cellist
MISHA QUINT
captivates his audiences with his lyricism, passion and dazzling technique. Described by Harris Goldsmith as a "brilliantly accomplished virtuoso - an embodiment of interpretive and executive music-making at its rarefied best", his repertoire ranges from Bach to premieres of the most outstanding composers of today, including Alfred Schnittke, Sophie Goubadalina, Robert Sirota, Shulamit Ran, Steven Gerber, Nathan Davis, Ezra Laderman, and Stepan Lucky. Quint is Founder and Music Director of the InterHarmony® International Music Festival that take place in Acqui Terme, Piedmont, Italy, InterHarmony® Concert Series at Weill Recital Hall at Carnegie Hall in New York City, and InterHarmony International School of Music. Quint's recording of Tchaikovsky's Valse Sentimentale is featured in the 2022 Italian Netflix production of Fedeltà. Upcoming engagements include appearances with the San Remo Symphony in Italy, with the Orchestre Saint-Germain in Paris, and concertos and recitals in Switzerland and Italy in collaboration with Antonio Di Cristofano, Guy Braunstein, Alexei Volodin, Andrey Baranov, Eric Lederhandler, and Johannes Le Pennec.
A graduate of the Leningrad Special School for the Gifted and the Leningrad State Conservatory, Misha Quint made his orchestral debut at the age of 13 after winning first prize at the Boccherini Competition in St. Petersburg (then Leningrad). He gained international recognition after capturing top prizes in the 1975 International Competition in Prague and the Russian National Competition. Quint immigrated to the US and made his critically acclaimed New York recital debut at the 92nd Street Y and his orchestral debut in Avery Fisher Hall at Lincoln Center in 1992. He has given numerous solo recitals and master classes in the leading halls of England, Germany, Switzerland, Ireland, Russia, Latvia, Georgia, Belorussia, Romania, Italy, and the US. "[Quint] provides a fresh voice…The Russian school of string playing has taken on a different light with Quint" said Daniel Webster of the Philadelphia Inquirer and "a master of probing sentiment, shaded phrasing, and flawless technique" from MetroWest.
Misha Quint has appeared with such celebrated orchestras as the New York Chamber Symphony, Metropolitan Symphony, the London Soloists Chamber Orchestra at Queen Elizabeth Hall, Leningrad Philharmonic Orchestra, Moscow State Symphony Orchestra, Leningrad State Orchestra, Orchestra of Classical and Contemporary Music, National Irish Symphony, the Orquestra Sinfônica do Teatro Nacional do Brasilia and with the Symphony Orchestras of Latvia and Georgia among others. He has worked with an equally illustrious group of conductors including Maxim Shostakovich, Paul Lustig Dunkel, Colman Pearce, Sidney Harth, Ravil Martinov, Yakov Bergman, and Ira Levin. Quint is an active chamber musician and has performed with such artists as Nikolai Znaider, Vadim Repin, Shlomo Mintz, Bela Davidovich, Bruno Canino, Julian Rachlin, Jean-Bernard Pommier, Sherban Lupu, Boris Kushnir, and Mikhail Kopelman.
As a special guest artist, Misha Quint was broadcast in live television performances in Westchester, NY; "The Jewish Entertainment Hour"; German Television, Italian Television, RTN/WMNB; and live radio broadcast recitals on WQXR's "The Listening Room", WGBH (Boston), WMNB (NJ), WNYC (NY). Quint captured first prize of the CRS National competition in 2009, was a featured performer at The Festival of the Musical Citadel in Brasov, Romania in August 2013 and 2014, and is the Founder of the InterHarmony Concert Series at Carnegie Hall in New York and the former InterHarmony Concert Series at the Modern Museum of Art in Fort Worth, Texas. Quint's discography includes Live Cello Recitals and Valse Sentimentale on the Volshebnik Productions Label, and the 2014 release of Tempo Trapezio and 2016 release of Matryoshka Blues on the Blue Griffin Label. Quint captured the gold medal in the March 2016 Global Music Awards for his recording, Matryoshka Blues, on the Blue Griffin label in three categories: instrumentalist, album, and new release, and was featured in the top five spring albums in Global Music Awards.
Misha Quint is strongly committed to teaching and is on the faculty of InterHarmony International School of Music. He has been on the faculty of the International Institute of Music in Marktoberdorf, Germany, and was Music Director and Founder of the Soesterberg International Music Festival in Holland from 1998 – 2007, the Intensive Cello Studies Abroad in Blonay, Chalet de lacroix at the Hindemith Foundation in 1997, Interharmony Music Festival in Geneva, Switzerland in 2000, The Berkshires, Massachusetts from 2007 – 2008, San Francisco, California in 2009, Hinterzarten, Schwarzwald, Germany from 2008 – 2011, in Tuscany, Italy from 2012 – 2016, presently in Acqui Terme, Italy since 2017, and from 2005-2019 in Sulzbach-Rosenberg, Bavaria, Germany. Quint studied with Emmanuel Fishman, Natalia Gutman, Boris Pergamenshikov, and Daniel Shafran.
www.mishaquintcello.com
www.interharmony.com
www.interharmonymusicschool.com

Pianist
TAMILA AZADALIYEVA
was born in Tashkent, Uzbekistan, where she attended the Uspensky Music School, affiliated with Tashkent State Conservatory, for gifted children. She then received her B.M. degree from Tashkent State Conservatory while studying with Elmira Mirkasimova. Tamila came to the United States to study with Oxana Yablonskaya at the University of Hartford Hartt School, where she received her Graduate Professional Diploma and then her Master's degree the following year, while studying with Luiz de Moura Castro.
Tamila has performed as a soloist and chamber musician in the United States, Italy, Spain, Bulgaria, Israel, Kazakhstan and native Uzbekistan. She has been a guest soloist with several orchestras including the Hartford Symphony Orchestra. Tamila's recent performances include performing Manuel de Falla's "Nights in the Gardens of Spain" for piano and orchestra with the San Francisco Civic Symphony in the Herbst Theater in San Francisco, California, and solo and four-hand performances with Oxana Yablonskaya at the Piano Institutes in Eilat, Israel and Kovacevica, Bulgaria, where Tamila served as a member of the piano faculty.
An avid chamber musician, Tamila performs as a member of Clara Piano Trio and also as a duo with her partner, cellist Peter Dzialo, with whom Tamila recorded two albums on the LPR label. The albums feature works for cello and piano by Schubert, Haydn, Popper, Bach-Kodaly and the never-before recorded cello sonata by Rhene-Baton.
A sought-after educator, Tamila has taught and lectured at various institutes and workshops in the United States and abroad. Tamila served as a piano faculty member at the University of Connecticut, University of New Haven and currently teaches at the Hartt School Community Division, Loomis Chaffee School and maintains a private studio in West Hartford, Connecticut.
Program
Beethoven:
Cello Sonata No.1
Schubert:
Arpeggione Sonata
Shostakovich:
Cello Sonata
Rachmaninoff:
Vocalise
Popper:
Dance of the Elves