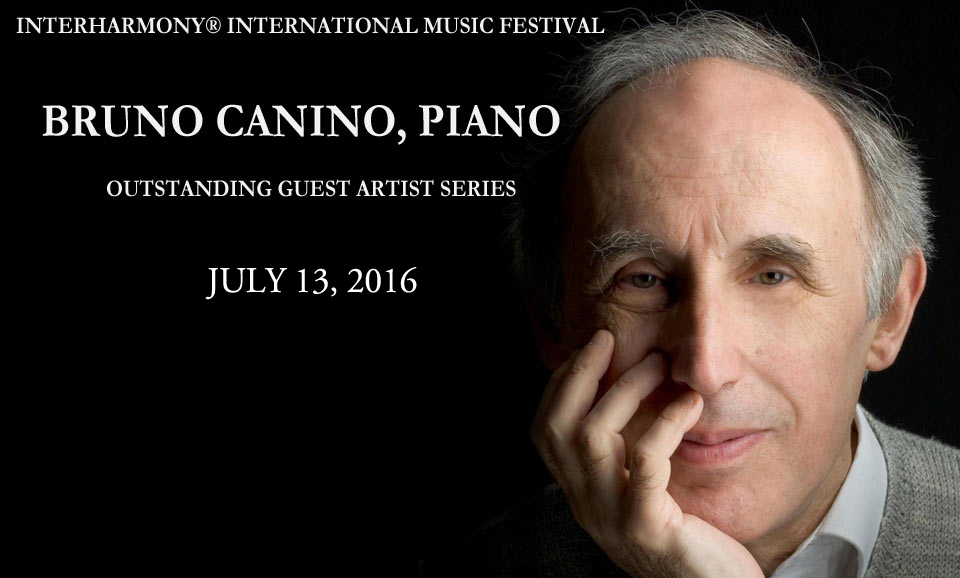 Bruno Canino, piano | Concert & Master Class | Session II
InterHarmony International Music Festival's 2017 summer season is starting soon, and that can mean only one thing: the return of IIMF's wildly successful Outstanding Guest Artist series. The series takes off on July 6th, 2017 in IIMF's new location, Acqui Terme, Italy, where celebrated Italian pianist Bruno Canino will join director Misha Quint for a grand opening concert. Quint and Canino will perform a selection of the greatest works for cello and piano: Beethoven's foundational Cello Sonata No. 3, Schubert's heart-breaking Arpeggione, Stravinsky's neo-classical masterpiece, the Suite Italienne, and Tchaikovsky's final work for cello: the Pezzo capriccioso. Canino will continue on July 9 with a concert of trios with violinist Shlomo Mintz and cellist Misha Quint, with works by Tchaikovsky and Rachmaninoff.

Canino is one of the leading lights in Italian classical music today, and has performed with such renowned artists such as Itzhak Perlman, Lynn Harrell, Viktoria Mullova and Pierre Boulez. His position in the world of contemporary music is unmatched and the list of composers who have dedicated works to him is a veritable who's who of 20th century music, from Luciano Berio and Mauricio Kagel to Wolfgang Rihm and Iannis Xenakis.

Bruno Canino, piano

Born in Naples, Bruno Canino studied piano and composition at the Conservatorio Verdi in Milan, where he taught solo piano for 24 years. He has performed both as a soloist and a chamber musician in all the great concert venues of Europe, US, Australia, Japan and China. For over forty years he has been regularly performing with Antonio Ballista, his piano Duo partner, and since thirty he is a member of the Trio of Milan. Bruno Canino regularly performs with such eminent musicians as Salvatore Accardo, Lynn Harrell, Viktoria Mullova, Itzhak Perlman, and Uto Ughi, among others.

For many years he has been Artistic Adviser of the Giovine Orchestra Genovese and, later, of the International Music Campus in Latina for the autumn season. At the moment Bruno Canino is the Director of the Venice Biennale Music Department.

Bruno Canino is deeply interested in contemporary music and has collaborated with such distinguished composers as Pierre Boulez, Luciano Berio, Karl-Heinz Stockhausen, Georg Ligeti, Bruno Maderna, Luigi Nono, Sylvano Bussotti and others, the works of whom he has often premiered.

Bruno Canino''s recent recordings include the Goldberg Variations, the complete piano works by Casella, and lately it has been released the first CD of the complete Debussy piano works.

He holds a master-class of piano and chamber music of the XX century at the Bern Conservatory.

In 1997 Passigli Editions published his book "Vademecum for a chamber pianist".




Beethoven: Cello Sonata No.3 in A Major, Op.69
Stravinsky: Suite Italienne for Cello and Piano
Schubert: Sonata in a minor for Arpeggione and Piano, D821
Tchaikovsky: Pezzo capriccioso, Op.62

Concert:

Opening Duo Recital

Dates:

July 6, 2017

Location:

Basilica di San Pietro, Acqui Terme, Piedmont, Italy

Artists:

Misha Quint, cello; Bruno Canino, piano

Program:

Works by Beethoven, Stravinsky, Schubert, and Tchaikovsky

Rachmaninoff: Trio elegiaque No.1 in g minor
Kodály: Sonata for Violin and Cello, Op.8
Tchaikovsky: Piano Trio, Op.50

Concert:

Outstanding Chamber Music

Dates:

July 9, 2017

Location:

Basilica di San Pietro, Acqui Terme, Piedmont, Italy

Series:

Outstanding Guest Artist Series

Artists:

Shlomo Mintz, violin; Misha Quint, cello; Bruno Canino, piano

Program:

Kodaly Duo for Violin and Cello and trios by Rachmaninoff and Tchaikovsky

Date:

July 7, 2017

Location:

Basilica di San Pietro, Acqui Terme, Piedmont, Italy

Series:

Outstanding Guest Artist Series

---