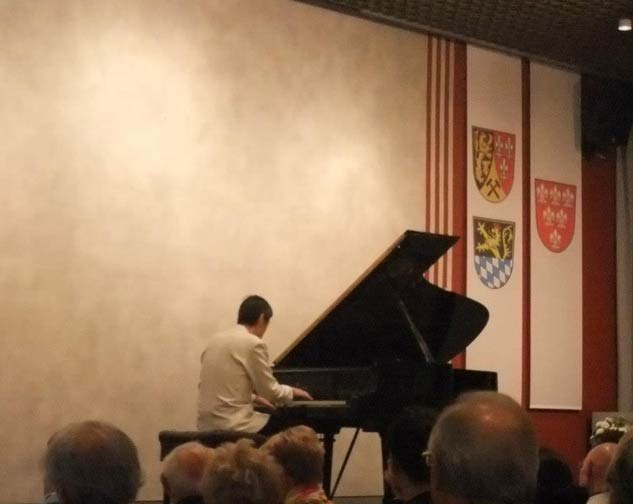 Program
Charles Griffes (1884 - 1920)
: White a Peacock
Edward MacDowell (1860 - 1908)
: Etude de Concert, Op. 36
Christina Long, piano
Claude Debussy (1862 – 1918)
: Sonata for Violin and Piano
Shi-Hwa Wang, violin
Yu-Jane Yang, piano
Sergei Rachmaninoff (1873 –1943)
: Ne poy krasavitsa pri mne, Don't Sing for Me from 6 Romances, Op.4
Richard Novak, tenor
Anca Nicolau, violin
Antoniya Yordanova, piano
Paolo Tosti (1846 - 1916)
: Ideale
Ruggero Leoncavallo (1895 - 1919)
: Mattinata
Richard Novak, tenor
Antoniya Yordanova, piano
Frédéric Chopin (1810 –1849)
Fantasie in f minor, Op.49
Robert Palmer, piano
INTERMISSION
Claude Debussy (1862 – 1918)
: Les soirs illuminés par l'ardeur du charbon
Isaac Albéniz (1960 – 1909)
: Iberia, from Book III: El Albaicín
Gerardo Teissonniére, piano
Owen Underhill (b.1964)
: Cantilena
Janet Underhill, bassoon
Ivan Kyurkchiev, piano
Franz Schubert (1797 –1828)
: Violin Sonata in A Major, D 574
Anca Nicolau, violin
Ivan Kyurkchiev, piano

Johannes Brahms (1833 – 1897): Two Songs for Mezzo-Soprano, Cello, and Piano, Op.91

Christa Mayer, Mezzo-Soprano
Misha Quint, cello
Gerardo Teissonniére, piano
Works by Griffes, MacDowell, Debussy, Rachmaninoff, Tosti, Leoncavallo, Chopin, Albéniz, Owen Underhill, Schubert, and Brahms.
---
Who:

Christina Long, piano, Shi-Hwa Wang, violin, Yu-Jane Yang, piano, Richard Novak, tenor, Anca Nicolau, violin, Antoniya Yordanova, piano, Robert Palmer, piano, Gerardo Teissonnieére, piano, Janet Underhill, bassoon, Ivan Kyurkchiev, piano.

Where:

Staatliches Berufliches Schulzentrum, Konzertsaal

Address:

92237 Sulzbach-Rosenberg, Neumarkter Straße 10

Tickets:

Ticket Price Vorverkauf: €20, Online €19, Box Office €22

When:

Thursday, August 8, 2019, 19:30
Donnerstag, 8 August, 2019, 19:30 Uhr
Save the date! August 8!