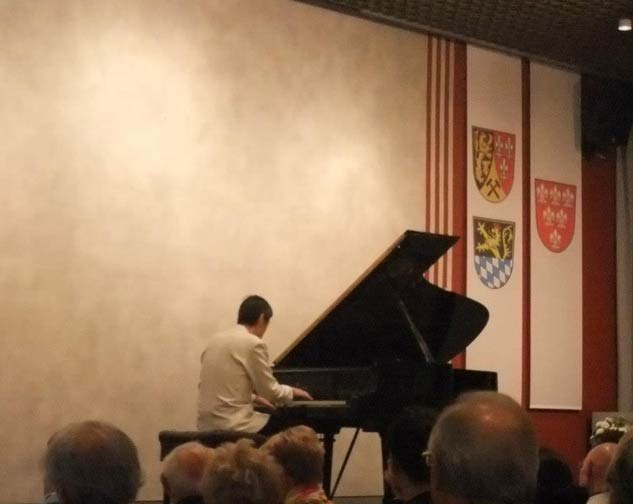 Program
Mahler (1860 – 1911)
: Rückert Lieder
1. Ich atmet einen Lindenbaum
3.Blicke mir nicht in die Lieder
4. Ich bin der Welt abhanden gekommen
Melissa Schiel, soprano
Dorian Keilhack, pianoforte
Emmanuel Arias y Luna
: "Jarabe" for Cello and Piano
Stephen Dankner
: " ... come un´ aria" for Cello and Piano
Javier Arias, cello
Chenny Gan, piano
Chopin: (1810 – 1849)
: Scherzo No.2 in B-Flat Major, Op.31
Jan Loeffler, piano
INTERMISSION
Debussy (1862 – 1918)
: Sonata for Violin and Piano in g minor, L140
Allegro vivo
Finale: Très animé
Chiao-Ling Sun, violin
Marina Samson-Primachenko, pianoforte
Schubert
: Nacht und Träume
Liszt
: Oh! Quand je dors
Stephen Ng, tenor
Dorian Keilhack, piano
Britten (1913 – 1976)
: Canticle II, Abraham and Isaac, Op.51
Melissa Schiel, soprano
Stephen Ng, tenor
Dorian Keilhack, piano
Brahms
: Fantasien, Op. 116
1. Intermezzo, Op. 116 N4 in E Major
2. Intermezzo, Op. 116 N5 in e minor
3. Intermezzo, Op. 116 N6 in E Major
4. Capriccio, Op. 116 in d minor
Elena Tsvetkova, piano
Works by Mahler, Emanuel Arias y Luna, Stephen Dankar, Chopin, Debussy, Schubert, Liszt, Britten, and Brahms.
---
Who:

Melissa Schiel, soprano; Dorian Keilhack, piano; Javier Arias, cello; Chenny Gan, piano; Jan Loeffler, piano; Chiao-Ling Sun, violin; Marina Primachenko, piano; Stephen Ng, tenor; Elena Tsvetkova, piano

Where:

Konzertsaal des Rathauses

Address:

Neumarkter Str. 10, 92237 Sulzbach-Rosenberg, Germany

Tickets:

Ticket Price Vorverkauf: €18.70, Online €17.70, Box Office €20

When:

Sunday, August 6, 2017, 19:00
Sontag, 6 August, 2017, 19:00 Uhr
Save the date! August 6!