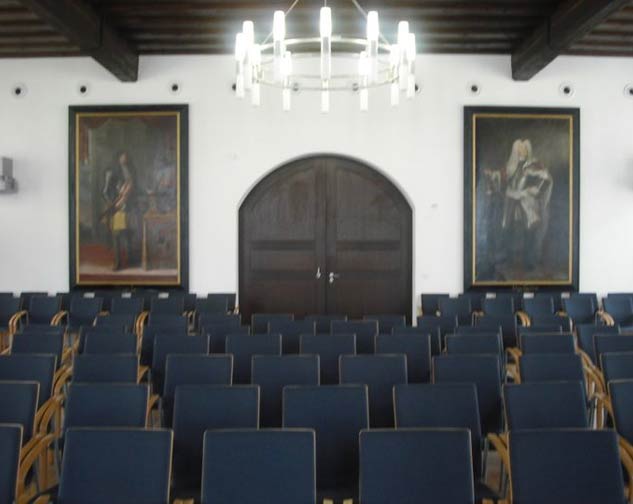 Program
Sergei Rachmaninoff (1873 – 1943): Prelude in G-Sharp minor, Op.32, No.12
Prelude in G Major, Op.32, No.5
Etude in E-Flat minor, Op.33, No.3

John Pickett, piano

Beethoven (1770 – 1827): Violin Concerto in D Major, Op.61
III. Rondo

Emil Altschuler, violin
Chenny Gan, piano

Paul Taffanel (1844 – 1908): Fantaisie Sur Francoise De Rimini for Flute and Piano
Piazzolla (1921 – 1992): Ave Maria

NoraLee Garcia, flute Chenny Gan, piano

Beethoven (1770 – 1827): Sonata No. 5 for Piano and Violin, Op. 24, "Spring"
I. Allegro

Iman Khosrowpour, violin
Dorian Keilhack, piano

INTERMISSION

Fauré: Impromptu No.2 in f minor, Op.31
Fauré: Romance sans paroles, Op.17, No.3
Fauré: Impromptu No.3 in A-Flat Major, Op. 34

Robert Palmer, piano

Jeffrey Kaufman: Sonatina for Horn and Piano

I. Allegro moderato
II. Grave – Moderato
III. Allegro

Susan LaFever, French horn
Marina Samson-Primachenko, pianoforte

Granados: Intermezzo from the Opera Goyescas
Granados: Spanish Dance No.6
Piazzolla: Le Grand Tango
Pablo Casals: The Song of the Birds/El cant dels ocells
da Falla: Ritual Fire Dance/Danza Ritual del Fuego from El Amor Brujo
Rodion Shchedrin: In the Style of Albeniz

Misha Quint, cello Theresa Bogard, piano

Program Subject to Change
Program
Works by Rachmaninoff, Fauré, Beethoven, Taffanel, Piazzolla, Kaufman, Emanuel Arias Y Luna, Stephen Dankner, Schubert, Liszt, Granados, Casals, Falla, Shchedrin, Mahler, Chopin, Britten, Debussy, and Brahms.


---
Who:

Robert Palmer, piano; Javier Arias, cello; Stephen Ng, tenor; Elena Tsvetkova, piano; Misha Quint, cello

Where:

Konzertsaal der Staatlichen Berufsschule

Address:

Neumarkter Str. 10, 92237 Sulzbach-Rosenberg, Germany

Tickets:

Ticket Price Vorverkauf: €18.70, Online €17.70, Box Office €20

When:

Saturday, August 5, 2017, 19:30
Samstag, 5 August, 2017, 19:30 Uhr
Save the date! August 5!