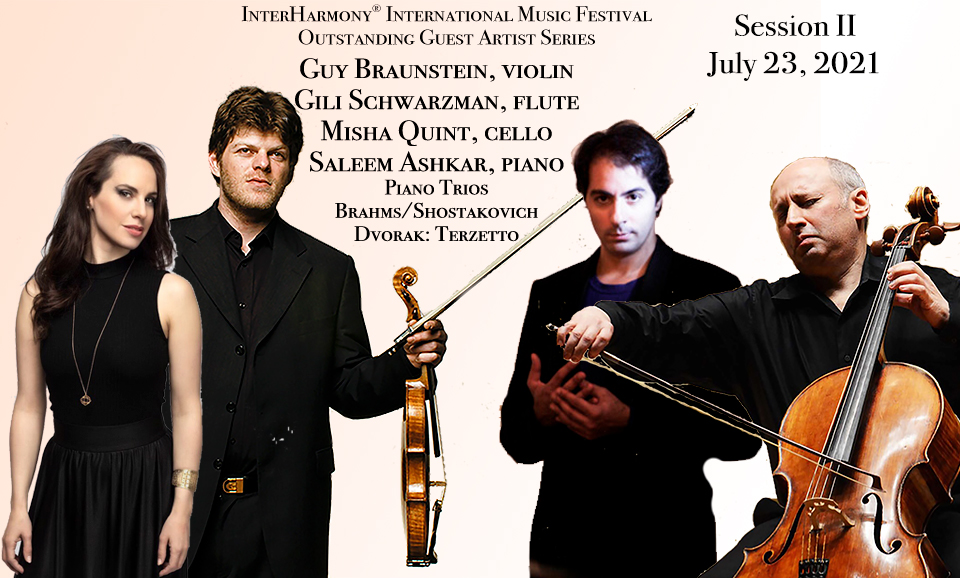 Program
Program:
Mendelssohn: Piano Trio in d minor, Op.49
Tchaikovsky: Piano Trio

Guy Braunstein, violin
Misha Quint, cello
Alexei Volodin, piano
A concert program with Mendelssohn's d minor trio and Tchaikovsky's Piano Trio means only one thing: fireworks. That is exactly what will be happening on the 19th of July in Acqui Terme, when Guy Braunstein, Misha Quint, and Alexei Volodin will perform the monumental Mendelssohn d minor and Tchaiovsky Piano Trios in Acqui Terme, Italy.

Hosting violin virtuoso Guy Braunstein at InterHarmony International Music Festival will bring fresh range of enthusiasm and excitement to one of the top events in the sea of highlights of the intensive concertizing life of the festival. Braunstein started performing as an international soloist and a chamber musician at a very young age and was the youngest concertmaster of the Berlin Philharmonic. He has performed with the Israel Philharmonic, Tonhalle Zurich, Bamberg Symphony, Copenhagen Radio and Frankfurt Radio Orchestras, as well as the Filarmonica della Scala, Berlin Philharmonic and many others. He has collaborated with musicians such as Isaac Stern, András Schiff, Zubin Mehta, Maurizio Pollini, Yefim Bronfman, Daniel Barenboim, Sir Simon Rattle, Lang Lang, Emmanuel Ax, and Semyon Bychkov to name a few.

Russian-born cellist MISHA QUINT captivates his audiences with his lyricism, passion and dazzling technique. Described by Harris Goldsmith as a "brilliantly accomplished virtuoso - an embodiment of interpretive and executive music-making at its rarefied best", his repertoire ranges from Bach to premieres of the most outstanding composers of today, including Alfred Schnittke, Sophie Goubadalina, Robert Sirota, Shulamit Ran, Steven Gerber, Nathan Davis, Ezra Laderman, and Stepan Lucky. Quint is Founder and Music Director of the InterHarmony® International Music Festival that take place in Sulzbach-Rosenberg, Germany and Acqui Terme, Piedmont, Italy, the InterHarmony® Concert Series at Weill Recital Hall at Carnegie Hall in New York City, and the InterHarmony Concert Series in Fort Worth, Texas at The Modern Museum of Art that will premiered in 2018. Quint captured the gold medal in the March 2016 Global Music Awards for his recording, Matryoshka Blues, on the Blue Griffin label in three categories: instrumentalist, album, and new release, and was featured in the top five spring albums in Global Music Awards. Upcoming engagements include recitals and concerts with orchestras in Italy and Germany in collaboration with Nikolaj Znaider, and at the Ravinia Festival.

Participation of piano virtuoso at the InterHarmony will be one of the most exciting and awaited events of this summer. Acclaimed for his highly sensitive touch and technical brilliance, Alexei Volodin is in demand by orchestras at the highest level. He possesses an extraordinarily diverse repertoire, from Beethoven and Brahms through Tchaikovsky, Rachmaninov, Prokofiev and Scriabin to Gershwin, Shchedrin and Medtner. Volodin regularly appears in recital and has performed in venues such as Wigmore Hall, Wiener Konzerthaus, Amsterdam Concertgebouw, LSO St. Luke's, Barcelona's Palau de la Música and Mariinsky Theatre. He has also appeared in Paris' Philharmonie, London's International Piano Series, Great Hall of the Moscow Conservatoire, Alte Oper Frankfurt, Munich's Herkulessaal, Tonhalle Zürich and Madrid's Auditorio Nacional de Música. Besides performing in a trio marathon evening, playing Mendelssohn d minor and Tchaikovsky trios, he will give a piano masterclass. What a hot piano summer!
Program Subject to Change
Concerto di Ospiti Internazionali D'Eccezione/Outstanding Guest Artist Series Concert

Works by Mendelssohn and Tchaikovsky
---
Who

: Guy Braunstein, violin; Misha Quint, cello; Alexei Volodin, piano

Where:

Cattedrale di Santa Maria Assunta, Duomo di Acqui

Address:

Via Domenico Barone, 15011 Acqui Terme

Tickets:

TBA

When:

Friday, July 19, 2019, 21:30
19 luglio, 2019 venerdí, 21:30
Save the date! July 19!