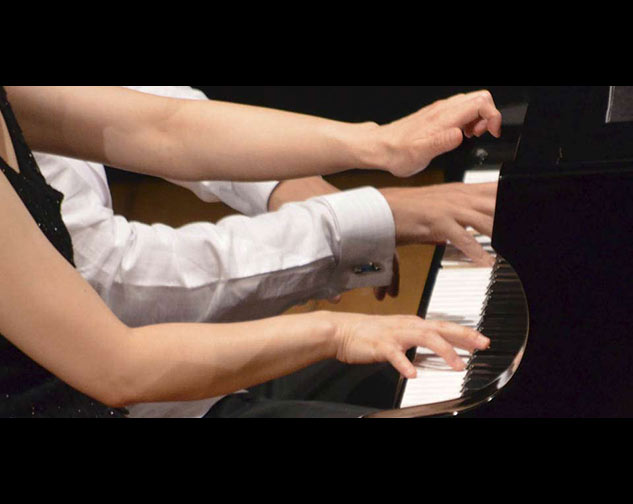 Concerto di Artisti Internazionali in Mombaruzzo
International Artists in Residence Concert in Mombaruzzo

Program and Performers:

Franz Liszt (1811 – 1886): Les Jeux d'eau à la Villa d'Este, from Années de pèlerinage, troisième année, S. 163

Teresa de Jong Pombo, pianoforte

Gabriel Fauré (1845 – 1924): Fantasie for Flute and piano

Krysia Tripp, flauto
Tamara Elizbarashvili, pianoforte

Frédéric Chopin (1810 –1849): 5 etudes from Op. 10

Sohyoung Park, pianoforte

Franz Schubert (1797 –1828): Fantasy for four hands in F minor, D940

Jan Loeffler, pianoforte primo
Luis Sanchez, pianoforte secondo

Wolfgang Amadeus Mozart (1756 – 1791): Sonata for Violin and Piano in G Major, K. 301

Kevin LeFohn, violino
May Phang, pianoforte

Nathan Davis (1937-2018): Matryoshka Blues

Misha Quint, violoncello
Tamara Elizbarashvili, pianoforte

Libby Larsen (b.1950): Juba

Misha Quint, violoncello
Tamara Elizbarashvili, pianoforte

Gabriel Fauré (1845 – 1924): Sonata in A Major for Violin and Piano, Op. 13

Ray-Chou Chang, violino
Joanna Ting, pianoforte

Nikolai Kapustin (b.1937): Trio for Flute, Cello, and Piano

Nora Lee Garcia, flauto
Misha Quint, violoncello
Tamara Elizbarashvili, pianoforte

Program Subject to Change
Program:
Works by Liszt, Faure, Chopin, Schubert, Mozart, Libby Larsen, Nathan Davis, and Nikolai Kapustin.
---
Who

: Teresa de Jong Pombo, pianoforte; Krysia Tripp, flauto; Tamara Elizbarashvili, pianoforte; Sohyoung Park, pianoforte; Jan Loeffler, pianoforte; Luis Sanchez, pianoforte; Kevin LeFohn, violino; May Phang, pianoforte; Misha Quint, violoncello; Tamara Elizbarashvili, pianoforte; Ray-Chou Chang, violino; Joanna Ting, pianoforte; NoraLee Garcia, flauto

Where:

Chiesa di Santa Maria Maddalena, Mombaruzzo

Address:

via XX Settembre, Mombaruzzo, Asti, Italia

Tickets:

TBA

When:

Tuesday, July 23, 2019, 21:00
23 luglio, 2019 martedí, 21:00
Save the date! July 23!