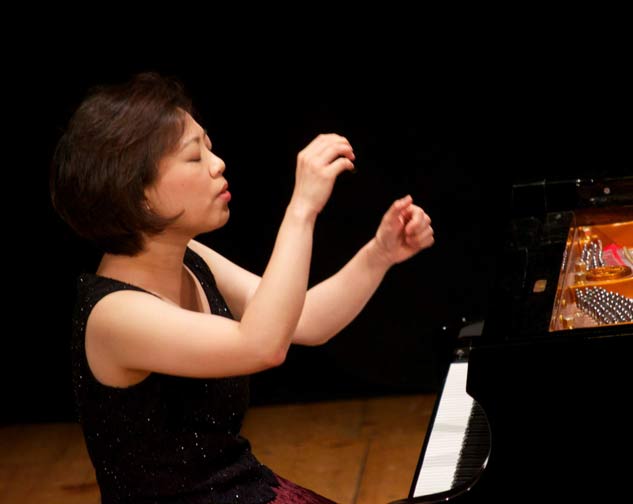 Concerto di Artisti Internazionali III/

International Artists in Residence Concert III

Program and Performers

Rachmaninoff (1873 – 1943): 10 Preludes Op. 23
No.2. Maestoso
No.7. Allegro
No.5. Alla marcia

Sookkyung Cho, pianoforte

Schubert (1797 – 1828): Shepherd on the Rock for Soprano, Clarinet, and Piano

Mitra Sadeghpour, soprano
Robyn Jones, clarinetto
Vladimir Khokhlov, pianoforte

Rachmaninoff (1873 – 1943): Prelude in D Major, Op.23, No.4
Debussy (1862 – 1918): L'Isle Joyeuse

Marina Samson-Primachenko, piano

Frescobaldi (1583 – 1643): Toccata for viola and piano
Vieuxtemps (1820 – 1881): Cappriccio

Misha Galaganov, viola
Marina Samson-Primachenko, pianoforte

Mozart (1756 – 1791): Fantasy in C Minor, K. 475

Sohyoung Park, piano

Ysaÿe (1858 – 1931): Sonata No.4 in e minor, Fritz Kreisler, from Six Sonatas for Solo Violin, Op.27
I. Allemande (Lento maestoso)
II. Sarabande (Quasi lento)
III. Finale (Presto ma non troppo)

Olga Kaler, violin

INTERMISSION

Kapustin (b.1937): Variation, Op.41

Han-Yi Tsai, pianoforte

Arnold (1921 – 2006): Sonatina for oboe and piano

Johanna Cox, oboe
Marina Samson-Primachenko, pianoforte

Schumann (1810 - 1856): Piano Quartet in E-Flat Major, Op.47
1. Sostenuto assai - Allegro ma non troppo
2. Scherzo: Molto vivace - Trio I - Trio II
3. Andante cantabile
4. Finale: Vivace

Carrie Michel, violin
Basil Vendryes, viola
John Michel, violoncello
Moli Chiang, pianoforte

Program Subject to Change
Program:

Program and Performers:

Works by: Rachmaninoff, Schubert, Debussy, Frescobaldi, Vieuxtemps, Mozart, Ysaÿe, Kapustin, Arnold, and Schumann.
---
Who

: Sookkyung Cho, pianoforte; Mitra Sadeghpour, soprano; Robyn Jones, clarinetto; Vladimir Khokhlov, pianoforte; Marina Samson-Primachenko, piano; Misha Galaganov, viola; Sohyoung Park, piano; Olga Kaler, violino; Han-Yi Tsai, pianoforte; Johanna Cox, oboe; Carrie Michel, violin; Basil Vendryes, viola; John Michel, violoncello; Moli Chiang, pianoforte.

Where:

Chiesa San Pellegrina

Address:

Corso Bagni, 177, 15011 Acqui Terme AL, Piemonte, Italia

Tickets:

TBA

When:

Thursday, July 27, 2017, 21:30
27 luglio, 2017 giovedì, 21:30
Save the date! July 27!