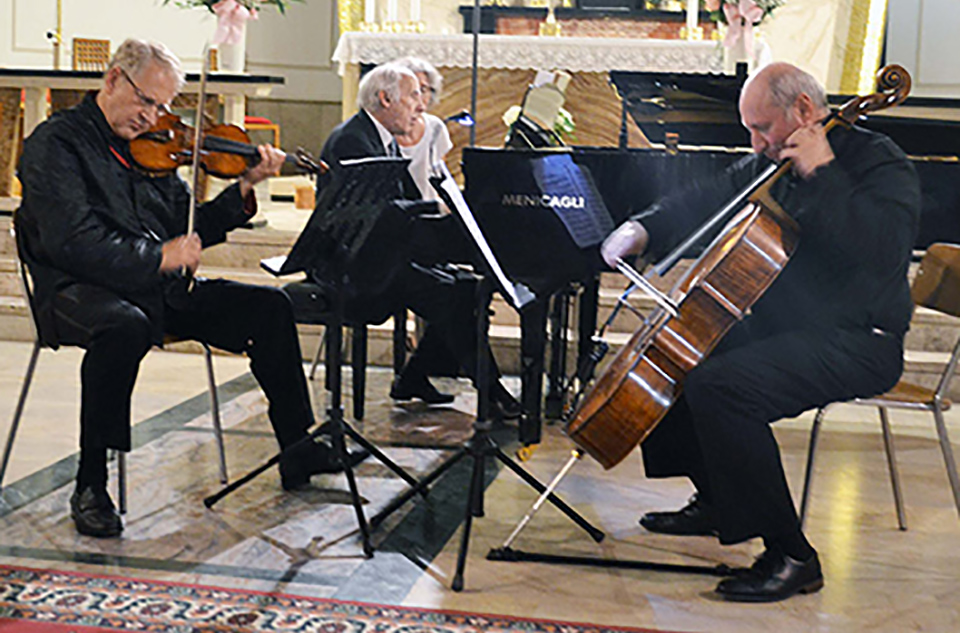 Concerto di Artisti Internazionali III/

International Artists in Residence Concert III

Program and Performers

Johann Sebastian Bach (1685 – 1750): Toccata in E minor, BWV 914

Jan Loeffler, pianoforte

Ludwig van Beethoven (1770 – 1827): 7 Variations on 'Bei Männern welche Liebe fühlen', WoO 46
Maurice Ravel (1875 –1937): Piece en forme de Habañera

Rebecca Hartka, violoncello
Roderigo Robles de Medina, pianoforte

Bohuslav Martinů (1890 - 1959): Promenades for Flute, Violin, and Piano

Krysia Tripp, flauto
Roderigo Robles de Medina, pianoforte

Pyotr Ilyich Tchaikovsky (1840 – 1893): Dumka, A Russian Rustic Scene, Op.59

Ivana Cojbasic, pianoforte

Zoltán Kodály (1882 – 1967): Kodaly Cello Sonata Op. 8

Ruth Boden, violoncello

Alberto Ginastera (1916 –1983): Piano Sonata No. 1, Op. 22

Luis Sanchez, pianoforte

Franz Schubert (1797 –1828): Schubert: Fantasy for four hands in F minor, D940

Jan Loeffler, pianoforte primo
Luis Sanchez, pianoforte secondo

Program Subject to Change
Program:

Works by J.S. Bach, Beethoven, Ravel, Marinu, Tchaikovsky, Kodaly, Ginastera, and Schubert.
---
Who

: Jan Loeffler, pianoforte; Rebecca Hartka, violoncello; Roderigo Robles de Medina, pianoforte; Krysia Tripp, flauto; Ivana Cojbasic, pianoforte; Ruth Boden, violoncello; Luis Sanchez, pianoforte

Where:

Chiesa Santo Spirito

Address:

Corso Cavour, 1, 15011 Acqui Terme AL, Italy

Tickets:

TBA

When:

Thursday, July 25, 2019, 21:30
25 luglio, 2019 giovedì, 21:30
Save the date! July 25!