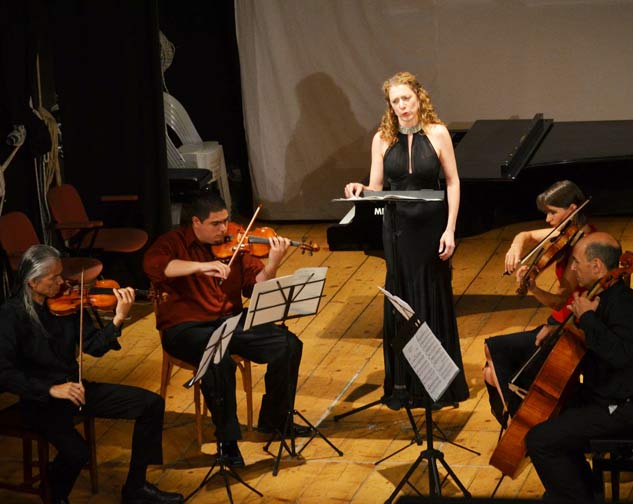 Program
Ionel Petroi (b.): Precipitando for cello and piano

Elisa Kohanski, violoncello
Tatjana Rankovich, pianoforte

Blaž Pucihar (b.1977): Trio for Flute, Oboe and Piano
I. Allegro
II. Aria, lento cantabile; Vivo

Krysia Tripp, flauto
Amy Collins, oboe
Dorian Keilhack, piano

Frank Bridge (1879 – 1941): Allegro Appasionato and Pensiero

Travis Maril, viola Vladimir Khokkhlov, pianoforte

Lutoslawksi (1913 – 1994): Dance Preludes for Clarinet and Piano
I. Allegro Molto
II. Andantino
III. Allegro Giocoso
IV. Andante
V. Allegro Molto

Robyn Jones, clarinetto
Dorian Keilhack, pianoforte

Beethoven (1770 – 1827): Sonata No. 24 in F sharp, Op. 78
I. Adagio cantabile - Allegro ma non troppo
II. Allegro vivace

John Owings, pianoforte

INTERMISSION

Ravel (1875 – 1937): Extracts from Miroirs
La vallée des cloches
Une barque sur l'océan

Harold Brown, pianoforte

Edvard Grieg (1843 – 1907): Sonata No. 3 in C Minor, Op. 45
I. Allegro molto ed appassionato

Lynn Ledbetter, violin
Marina Samson-Primachenko, pianoforte

Pancho Vladigerov (1899 – 1978): Bulgarian Rhapsody Vardar

Joanna Genova, violino
Vladimir Khokhlov, pianoforte

Bartók (1881 – 1845): Piano Sonata Sz. 80

I. Allegro moderato
II. Sostenuto e pesante
III. Allegro molto

Eileen Buck, pianoforte

Beethoven (1770 – 1827), arr. Franz Alexander Pössinger: Piano Concerto No.4 in G Major, Op.58
I. Allegro moderato

Tatjana Rankovich, pianoforte
Inga Kroll, violino
Mellasenah Edwards, violino
Misha Galaganov, viola
Travis Maril, viola
Elisa Kohanski, violoncello

Program Subject to Change
Concerto di Artisti Internazionali in Sede II/

International Artists in Residence Concert II
Works by Ionel Petroi, Blaž Pucihar, Bridge, Lutoslawksi, Beethoven, Ravel, Grieg, Vladigerov, and Bartók.
---
Who

: Elisa Kohanski, violoncello; Tatjana Rankovich, pianoforte; Krysia Tripp, flauto; Amy Collins, oboe; Dorian Keilhack, piano; Travis Maril, viola; Vladimir Khokkhlov, pianoforte; Robyn Jones, clarinetto; John Owings, pianoforte; Harold Brown, pianoforte; Lynn Ledbetter, violino; Joanna Genova, violino; Eileen Buck, pianoforte; Inga Kroll, violino; Mellasenah Edwards, violino; Misha Galaganov, viola

Where:

Chiesa San Pellegrina

Address:

Corso Bagni, 177, 15011 Acqui Terme AL, Piemonte, Italia

Tickets:

TBA

When:

Saturday, July 22, 2017, 21:30
22 luglio, 2017 sabato, 21:30
Save the date! July 22!