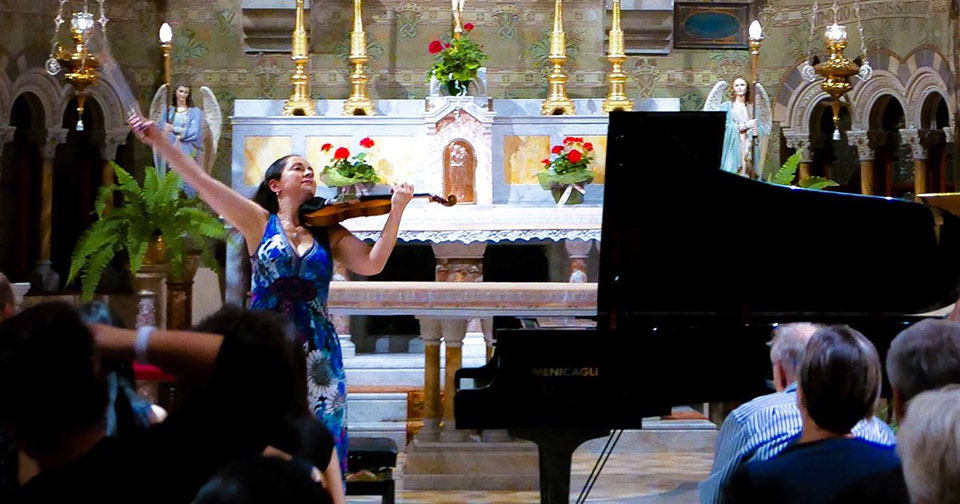 Program
Program:
Frédéric Chopin (1810 –1849): Scherzo in E major, Op. 54

May Phang, pianoforte

Johannes Brahms (1833 – 1897): Scherzo in C minor from F.A.E. Sonata

Kevin LeFohn, violino
May Phang, pianoforte

Franz Liszt (1811 – 1886): Les Jeux d'eau à la Villa d'Este

Teresa de Jong Pombo, pianoforte

Alberto Ginastera (1916 –1983): Pampeana for Cello and Piano, Op.21, No. 2

Chungsun Kim, violoncello

INTERMISSION

Frédéric Chopin (1810 –1849): 5 etudes from Op. 10

Sohyoung Park, pianoforte

Johannes Brahms (1833 – 1897): Piano Trio in B Major, Op.8

Ray-Chou Chang, violin
Misha Quint, cello
Joanna Ting, piano Program Subject to Change
Concerto di Artisti Internazionali II/

Works by Chopin, Brahms, Ginastera, and Chopin.
---
Who

: May Phang, pianoforte; Kevin LeFohn, violino; Teresa de Jong Pombo, pianoforte; Chungsun Kim, violoncello; Sohyoung Park, pianoforte; Ray-Chou Chang, violin; Misha Quint, cello; Joanna Ting, piano

Where:

Chiesa Santo Spirito

Address:

Corso Cavour, 1, 15011 Acqui Terme AL, Italy

Tickets:

TBA

When:

Saturday, July 20, 2019, 21:30
20 luglio, 2019 sabato, 21:30
Save the date! July 20!