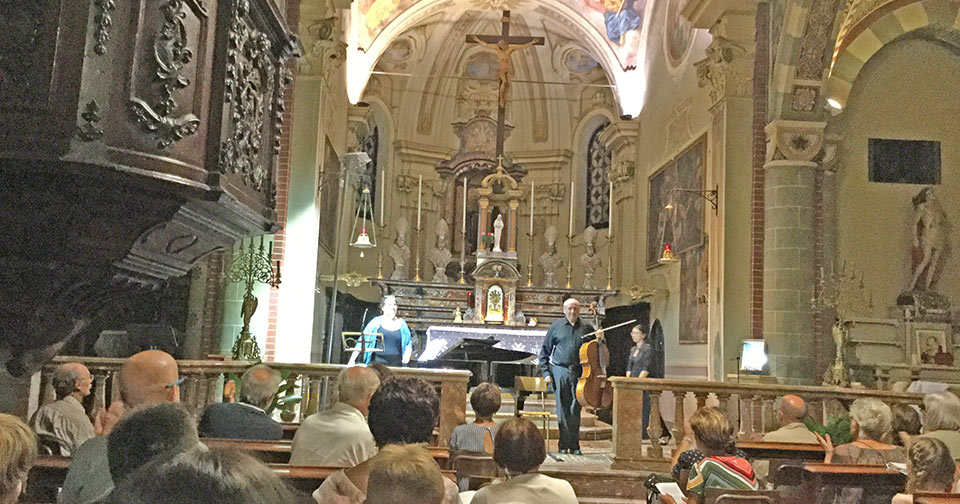 Program and Performers:
Frédéric Chopin (1810 –1849)
: Fantaisie in f minor, Op. 49
Martha Thomas, pianoforte
George Frideric Handel (1685 –1759) - Johan Halvorsen (1864 – 1935)
: Passacaglia for Violin and Cello
Carrie Rehkopf, violin
John Michel, violoncello
Alexander Scriabin (1871-1915)
: Five Preludes, Op. 74
Catherine Kautsky, piano
Robert Schumann (1810 – 1850)
: 5 Pieces in a Country Style for Cello and Piano, Op.102
Misha Quint, violoncello
Catherine Kautsky, pianoforte
Franz Liszt (1811 – 1886)
: Après une Lecture du Dante - Fantasia Quasi Sonata
Geoffrey Burleson, piano
Moritz Moszkowski (1854 –1925)
: Suite for Two Violins and Piano
William Barbini, violino
Kineko Okumura violino
Doyeon Kim, pianoforte

George Gershwin (1898 - 1937)
: Fragment for Cello Quartet
Quartetto di Violoncelli:
Misha Quint
John Michel
Caitlin McConnell
Nina Flyer
Heitor Villa-Lobos (1887 – 1959)
: Bachianas Brasileiras No.1 for 8 Cellos
Ensemble di Violoncelli:


Misha Quint
Caitlin McConnell
John Michel
Manuela Uribe
Nina Flyer
Christopher Brann
John Kaboff
Genevieve Batman
Program:
Program and Performers:
TBA
---
Who:

Martha Thomas, piano; Carrie Rehkopf, violin; John Michel, cello; Catherine Kautsky, piano; Misha Quint, cello; Geoffrey Burleson, piano; William Barbini, violin; Kineko Okumura, violin; Doyeon Kim, piano; Caitlin McConnell, cello; Nina Flyer, cello; Manuela Uribe, cello; Marisa Farooq, cello; John Kaboff, cello; Genevieve Batman, cello

Where:

Chiesa San Antonio Abate

Address:

Via Roma, Mombaruzzo, Asti, Italia

Tickets:

TBA

When:

Sunday, July 7, 2019, 21:00
7 luglio, 2019, domenica, 21:00
Save the date! July 7!